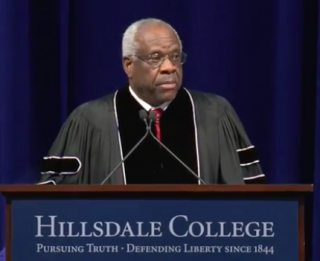 In a speech to graduates of Hillsdale College, U.S. Supreme Court Justice Clarence Thomas reminded them of their duty to give back as citizens and patriots.
"Do not hide your faith and your beliefs under a bushel basket, especially in this world that seems to have gone mad with political correctness," he said.
Thomas was the commencement speaker at the small liberal arts college in Michigan on Saturday. He first addressed what Thomas contends has been a very difficult term with the passing of Justice Antonin Scalia.
"When I think of Justice Scalia, I think of the good man I could instinctively trust during my first days on the Court … and those were challenging days," he said.  "He was a man of character."
Justice Thomas said he wanted to avoid the formulaic graduation speech where the speaker instructs graduate to go out and fix the world's problems or change the world.
"Having been where you all are, I think it is hard enough to solve your own problems, not to mention those problems that often seem to defy solution," he said.
Watch (Thomas speaks around 1:28) 
As Campus Reform pointed out, Thomas was one of the few conservative speakers asked to address students during this year's round of graduations. The conservative organization said that 40 of the announced commencement speakers at this year's top 100 schools have liberal leanings. Only ten such speakers are identifiably conservative.
"I am of a different time," Thomas told the graduates. "Today there is much more focus on our rights as citizens and what we are owed, it is not often that one hears of our obligations or duties as citizens. " He then gave students some lessons about giving back to society.
"If we are not making deposits to replenish our liberties, then who is? Are we content to let others do the work?" he said.
Have a tip we should know? [email protected]
Rachel Stockman - President / On Air Host