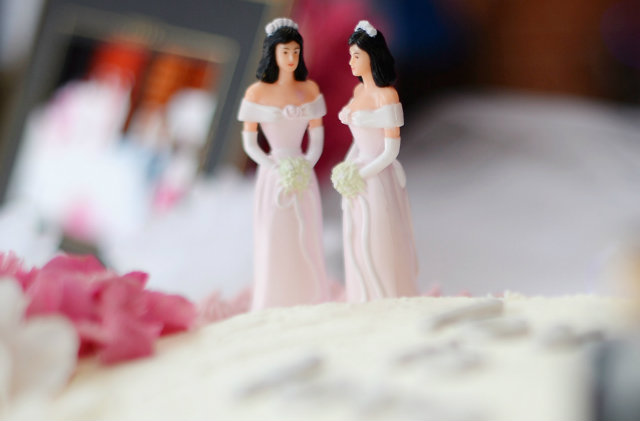 A religious baker recently won in court over a same-sex couple's wedding cake. No, this isn't the Masterpiece Cakeshop case, but in a similar lawsuit, lesbian couple Eileen and Mireya Rodriguez-Del Rio said bakery owner Cathy Miller refused to make their order. Kern County Superior Court Judge David Lampe ruled Monday that Miller can continue to refuse service, pending the results of their upcoming trial.
The complaint stemmed from the state's Unruh Civil Rights Act, which prohibits discrimination based on sexual orientation. Lampe said Miller's First Amendment rights trumped the California law. In denying the couple's motion for a preliminary injunction, he drew a distinction between cakes already on display and cakes that are commissioned by a same-sex couple.
"The difference here is that the cake in question is not yet baked," Lampe wrote in the ruling obtained by Law&Crime. "The State is not petitioning the court to order defendants to sell a cake. The State asks this court to compel Miller to use her talents to design and create a cake she has not yet conceived with the knowledge that her work will be displayed in celebration of a marital union her religion forbids. For this court to force such compliance would do violence to the essentials of Free Speech guaranteed under the First Amendment."
He argued that Miller stands to lose more than the couple.
"The court finds that any harm here is equal to either complainants or defendant Miller, one way or the other," he wrote. "If anything, the harm to Miller is the greater harm, because it carries significant economic consequences. When one feels injured, insulted, or angered by the words or expressive conduct of others, the harm is many times self-inflicted."
A case management conference is scheduled for June 11. By then, a bigger case might have been decided. The U.S. Supreme Court heard oral arguments in December for Masterpiece Cakeshop, Ltd. v. Colorado Civil Rights Commission. Religious baker Jack Phillips was found to have violated Colorado law by refusing to make a wedding cake for gay couple Charlie Craig and David Mullins. His legal team argues this violated his First Amendment rights.
Ruling in Miller v. Rodriguez-Del Rio by LawNewz on Scribd
[Image via Kevork Djansezian and Getty Images]
Have a tip we should know? [email protected]