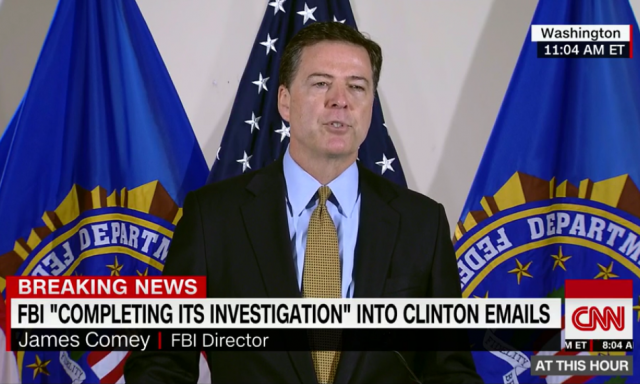 Newly-released text messages between FBI employees Lisa Page and Peter Strzok reveal that high-level bureau officials were aware of "hundreds of thousands" of additional emails related to the Hillary Clinton email investigation one full month before then-FBI Director James Comey alerted Congress to their existence.
On September 28, 2016, FBI Agent Strzok wrote the following message to FBI attorney Page:
Got called up to Andy's earlier.. hundreds of thousands of emails turned over by Weiner's atty to sdny [United States District Court for the Southern District of New York], includes a ton of material from spouse [Huma Abedin]. Sending team up tomorrow to review… this will never end.
The emails referred to in the message were discovered on former Congressman Anthony Weiner's laptop during Weiner's lengthy and public prosecution over sexting a 15-year-old girl. Further investigation clarified that at least five of those emails sent by Weiner's then-wife Huma Abedin were marked classified. Abedin is a longtime friend and aide to Clinton.
The discovery of those additional emails jumpstarted the previously shelved Clinton investigation. Comey briefly earned the ire of liberals and Democrats when he penned an October 28, 2016 letter to Congress announcing the discovery and the concomitant re-opening of that infamous email investigation. Comey wrote, in part:
In previous congressional testimony, l referred to the fact that the Federal Bureau of Investigation (FBI) had completed its investigation of former Secretary Clinton's personal email server. Due to recent developments, I am writing to supplement my previous testimony.

In connection with an unrelated case, the FBI has learned of the existence of emails that appear to be pertinent to the investigation.
The letter, of course, set off a political firestorm and many pundits attributed its release to playing an integral role in Clinton's defeat in the 2016 presidential campaign just days later.
Comey went on to note, "I am writing to inform you that the investigative team briefed me on this yesterday, and I agreed that the FBI should take appropriate investigative steps designed to allow investigators to review these emails to determine whether they contain classified information, as well as to assess their importance to our investigation."
An interim report released Wednesday morning by Senator Ron Johnson (R-WI) via the Senate Homeland Security and Governmental Affairs Committee contains the Strzok-Page SMS (text) messages quoted above. That report, titled, "The Clinton Email Scandal and the FBI's Investigation of it" cites the particular exchange as necessitating investigation into when certain FBI officials were made aware of emails considered relevant to the Hillary Clinton email investigation.
Likely germane to this line of questioning is whether then-Deputy FBI Director Andrew McCabe was responsible for withholding the information from Comey or whether Comey's letter to Congress misrepresented the timeline regarding the Weiner-Abedin-Clinton tranche of emails and when the FBI acted on those emails.
[Screengrab via CNN]
Follow Colin Kalmbacher on Twitter: @colinkalmbacher
Have a tip we should know? [email protected]