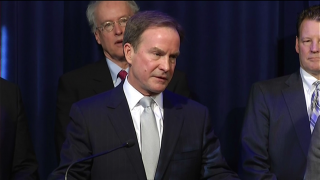 Michigan Attorney General Bill Schuette announced this morning that he has hired two independent investigators to probe the contamination of water in Flint, Michigan. The investigators will try to determine what, if any, Michigan laws were violated. The far-reaching contamination has resulted in between 6,000 and 12,000 people suffering from very high levels of lead in their blood.
"The separate legal team will operate with iron clad conflict walls, and are managed by an experienced ethics counsel," Schuette said, "I am angry and frustrated, too, I certainly would not bathe a newborn child in this bad water."
The two independent investigators are:
Todd Flood who will serve as special outside counsel. Flood is a former Wayne County prosecutor.
"We are going to open up every door. 'What did you know? When did you know,'" Flood said during the press conference. Flood dodged reporter questions about whether his political contributions to the current Michigan governor would be a conflict in the case.
"We will investigate every person, regardless of whether I've donated to them," Flood said. "We are not here for any biases. We are following the facts."
The AG also appointed Andy Arena as special investigator, another heavy hitter. Arena used to head the Detroit FBI Office and oversaw much of the City of Detroit's public corruption investigation, which led to the conviction of former Detroit Mayor Kwame Kilpatrick. During the press conference, Arena said he would be the "Joe Friday" of the case, a fictional detective in the LA Police Department.
The AG said he will let the independent probe carry out the investigation, and wait for that team to deliver a report on whether any charges are warranted.
"Every citizen in Michigan deserves this to be a full, top shelf investigation," Schluette said.
As for what laws could have been broken? The new investigators said there are an array of laws including malfeasance in office that they will be examining.
"I am not going to be pigeonholed," Flood said.
[screenshot via NBC News live feed]
Have a tip we should know? [email protected]
Rachel Stockman - President / On Air Host