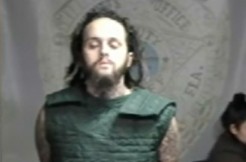 David Mejia made it hard for his attorney at a Saturday bail hailing. So very, very hard. The 24-year-old faces five counts of attempted murder, and lost it when the judge said the charges meant he couldn't get a bond.
"So how does a kid who shot up a church get a bond, but I can't get a bond?" he fumed. He was referencing  Dylann Roof, who allegedly murdered nine black worshipers at the Emanuel African Methodist Episcopal Church last year. He also went off about George Zimmerman getting acquitted for the 2012 shooting of teenager Trayvon Martin.
And Mejia's complaint was…really fair, actually. Why the hell did Roof get the opportunity for bail?
Anyway, you know who's happy Mejia won't get bail? Miami Cops. They say Mejia tried to kill five of them Friday. Mejia opened fire, apparently without reason, at the car of Officer David Starling, who was hit once, police say:
What happens went someone shoots at an officer? More cops come. So that happened. A shootout allegedly ensued, predictably, while Mejia tried to make a getaway. Fortunately, things ended peacefully when he reportedly crashed into another car.
No other injures were announced, though, and Starling is said to be doing well.
"I practiced my second-amendment. My life was in danger by crooked cops," he said during the hearing. He said the police were trying to kill him.
His attorney kept pleading with him to Shut. Up. "Please don't talk about the facts of the case," the attorney said on court video. Many times.
Mejia politely disagreed, calling his lawyer a member of the Ku Klux Klan. The judge eventually got fed up, and kicked the defendant out.
Mejia faces four other charges, but obviously those attempted murder accusations are the most severe. A single charge of first-degree attempted murder can carry a life sentence with a chance of parole.
[h/t New York Daily News]
–
>> Follow Alberto Luperon on Twitter (@Alberto Luperon)
Have a tip we should know? [email protected]