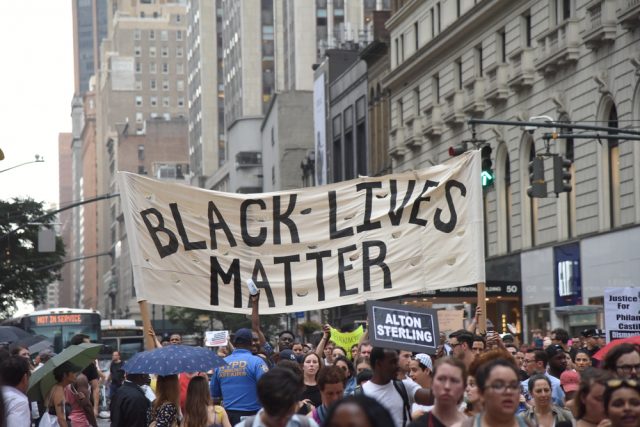 A police officer wounded in a fatal shooting that left three others dead last July has filed a lawsuit against the national Black Lives Matter movement and five associated activists, accusing them of inciting violence.
Though unnamed in the lawsuit, the police officer in question is Nick Tullier, an East Baton Rouge sheriff's deputy who was left permanently disabled after Gavin Long's July 17, 2016 ambush on six police officers. Long's attack was a direct response to Alton Sterling's execution-style death at the hands of Louisiana police a week-and-a-half prior.
Tullier's 28-page lawsuit casts a wide net and lists activists DeRay Mckesson, Johnetta "Netta" Elzie, Alicia Garza, Patrisse Cullors and Opal Tometi as the leaders of Black Lives Matter and also includes three distinct Black Lives Matter entities as the defendants.
The lawsuit claims that the defendants' coordinated criticism of law enforcement and protests in support of black men killed by police led directly to Tullier's injuries at the hands of Long. It reads, in part:
"The leaders of [Black Lives Matter] and Defendants, not only, incited the violence against police in retaliation for the death of black men shot by police, but also did nothing to dissuade the ongoing violence and injury to police. In fact, they justified the violence as necessary to the movement and war."
Operating on a theory of negligence, the lawsuit contains a lengthy write-up of multiple protest actions linked to the Black Lives Matter movement and highlights multiple incidents of property destruction, traffic disruption, and injuries and deaths of police officers attributed to Black Lives Matter supporters.
Filed in federal court on Friday, the lawsuit claims at least $75,000 for physical pain and suffering, disability, medical expenses, loss of enjoyment of life and other damages.
When made aware of the lawsuit by a reporter from the Associated Press, Mckesson reportedly said, "This is quite a world."
The judge overseeing the case has yet to rule on a request for dismissal.
[image via Shutterstock]
Follow Colin Kalmbacher on Twitter: @colinkalmbacher
Have a tip we should know? [email protected]