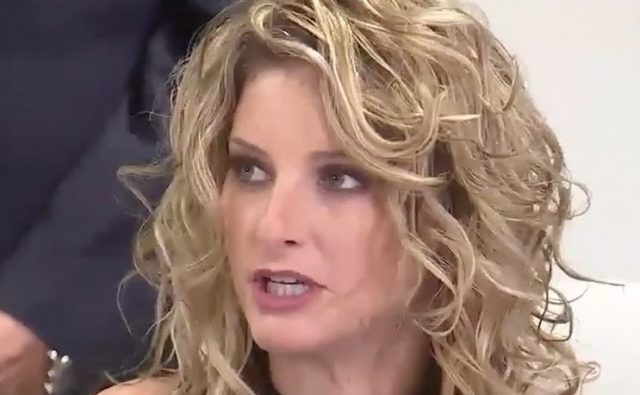 Late Friday night, President Donald Trump's lawyers fired back to a defamation lawsuit brought by former Apprentice contestant Summer Zervos who claims Trump made inappropriate sexual advances toward her in 2007.
In a 53-page motion to dismiss, Trump's attorney, Marc Kasowitz, claims the allegations are false and politically motivated. He also claims that the President is immune from being sued in state court and he asked the judge to either dismiss the case or put it on hold until Trump leaves office at which time Zervos can refile
But, also buried in the lengthy motion filed in Supreme Court of New York, was this little gem. Trump's attorney contends:
The Statements — all of which were advanced during a heated political campaign to convince the public to vote for Mr. Trump, and many of which were published via Twitter –constitute non-actionable rhetoric and hyperbole that is protected by the First Amendment.
Yes, you read that right, Trump's attorney said that Trump's statements denying and denouncing the allegations of sexual assault/harassment can't be the subject of a lawsuit because— get this—they are hyperbole (dictionary definition: intentional exaggerations) meant to convince the public to vote for him. The lawsuit does not specify which of Trump's statements we should consider to be exaggerations, but seems to reference more broadly.
Zervos claimed back in a October news conference that Trump sexually assaulted her during a business meeting in California in 2007. She claims that he kissed her on the lips, pressed himself against her and groped her breasts.
After Zervos came forward, Trump released a statement saying, "I vaguely remember Ms. Zervos as one of the many contestants on The Apprentice over the years. To be clear, I never met her at a hotel or greeted her inappropriately a decade ago. That is not who I am as a person, and it is not how I've conducted my life."
During his campaign, Trump went on to say that the women who made these accusations against him were liars and the "media [is] pushing false and unsubstantiated charges, and outright lies, in order to elect Crooked Hillary!"
In her lawsuit, Zervos is demanding a public apology and nearly $3,000 in damages. Her attorney, Gloria Allred, has also pledged to seek broad discovery including more of The Apprentice outtake tapes.  Trump's attorney is asking the judge to dismiss or to put the case on hold because "it will disrupt and impair the President's ability to discharge his Article II responsibilities."
Zervos' response to the motion to dismiss must be filed by the end of August.
Have a tip we should know? [email protected]
Rachel Stockman - President / On Air Host