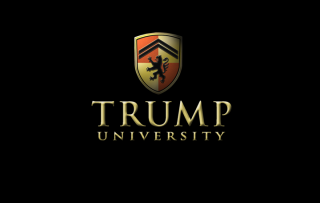 In April 2010, long before Donald Trump waged his candidacy for the presidency, Tarla Makaeff filed a lawsuit against The Donald over Trump University. Now, it seems, Trump's incessant public bashing has gotten the best of Makaeff, who wants to drop out as a party to the suit—she says she's tired of the Republican frontrunner's public attacks.
According to Makaeff's motion to withdraw, she "wants her life back without living in fear of being disparaged by Trump on national television." Don't we all Tarla, don't we all.
The lawsuit, to which Makaeff is a party, charges Trump with defrauding thousands of students by making promises he did not fulfill, including promises to handpick instructors who could teach students Trump's secrets to making money in real estate. The lawsuit is one of two class actions in federal court against Trump and his now defunct eponymous university.
Trump's lawyers are pushing back against Makaeff's attempt to withdraw. The lawyers conceded that their plan is to undermine the woman's credibility in court. It might seem counterintuitive, but Makaeff is the primary plaintiff in the class-action lawsuit and Trump's lawyers believe that, if they can destroy her in trial, the case won't stand a chance. On the flip side, if she is no longer a party, Trump's lawyers believe their strategy will fail. "Makaeff's participation in this case, particularly as a live trial witness, is essential to the trial strategy and defense defendants have been developing for almost six years," said the motion from Trump's attorneys.
After Makaeff filed her original suit in 2010, Trump filed a countersuit and the two have been feuding ever since. Unfortunately for Trump, his claims that Makaeff defamed him fell short and, five years later, the court ordered Trump to pay Makaeff nearly $800,000 in attorney fees.
Makaeff originally participated in videos praising Trump University when she was a student. However, her lawyers claim that came before she realized she was deceived by a litany of false promises.  "As the recent Ponzi-scheme scandals involving onetime financial luminaries like Bernard Madoff and Allen Stanford demonstrate, victims of con artists often sing the praises of their victimizers until the moment they realize they have been fleeced," the court ruled.
New York Attorney General Eric Schneiderman has also brought a civil suit in New York against Trump University.
[h/t CNNMoney]
[Screengrab via CNNMoney]
Have a tip we should know? [email protected]