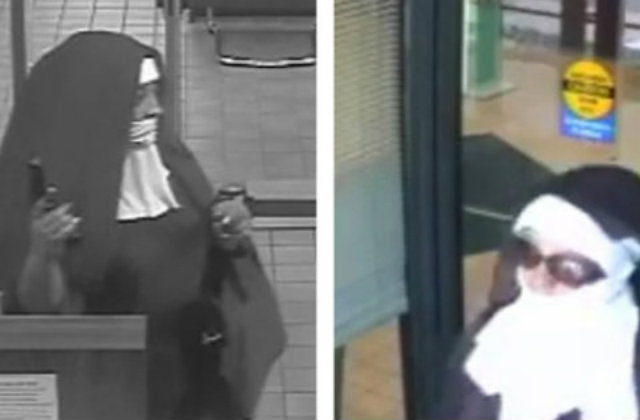 A New Jersey woman pleaded guilty Friday after robbing a bank dressed up like a nun. Insert "bad habit" pun here. Melisa Aquino Arias, 23, admitted in federal court to a total of three charges, according to The Department of Justice. 1) A count of attempted bank robbery for an incident at a Citizens Bank in Tannersville, Pennsylvania; 2) one count of attempted conspiracy to steal from a bank, in regard to a Keystone Bank in Scotrun, Pennsylvania; and 3) one count of bank robbery for holding up a Spencer Savings Bank in Garfield, New Jersey.
Co-defendant Swahilys Pedraza-Rodriguez, 19, pleaded guilty in April to the same charges.
The Sister Act wore nuns' habits to the Tannersville bank last August 28, the DOJ said. Arias was look out, while Pedraza-Rodriguez wielded an apparent gun, and demanded cash from the teller. You'll note that the charge in connection to this was "attempted" robbery. They left without any money after Arias got them to leave.
A Sept. 20 incident also failed to result in a payout. Both women wore hijabs, while Pedraza-Rodriguez tried to break into an ATM machine from the Keystone Bank drive-through. Arias was lookout. They ended up leaving. .
Arias also wore a hijab to a Sept. 27 incident at Spencer Savings. Defendants made off with $2,900, prosecutors said.
Prosecutors said she and her partner ended up getting caught after an attempted robbery at an NVE bank in Teaneck, New Jersey on Oct. 15. Once again, Arias had a hjiab, while Pedraza-Rodriquez wore a black head covering. They ran off after as employee contacted cops, but they were soon caught, the DOJ said.
Pedraza-Rodriguez is set for sentencing on Aug. 15, and Arias will learn her fate a month later on Sept. 12.
[Image via FBI]
Have a tip we should know? [email protected]