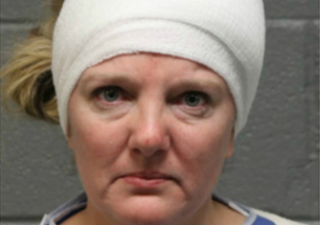 The attorney for a woman from Michigan says her client was attacked by police after Friday's Donald Trump rally in Chicago was canceled, DNAinfo reports. Kathleen Griffin and her daughter were peaceful protesters, when cops struck her with batons, according to her lawyer, Sara Garber.
Garber says police falsely charged Griffin with battery of a police officer. Chicago Police confirmed the battery charge, and that Griffin was arrested on Friday night. They say Griffin struck an officer in the face with a closed hand, but police spokesman Anthony Guglielmi said they take her allegations seriously. He said they "encourage her to file a formal complaint" with their internal affairs department or the independent police review board.
Garber says Griffin was beaten badly with batons over her head and body, while her daughter looked on. Griffin was taken to a local hospital, and received staples for a gash in her head. She was then taken to a county jail. She was still wearing a large bandage on her head when police took her mug shot.
The scene outside the canceled event was pandemonium, with several people allegedly beating or being beaten by police officers.
The following video, while not of Griffin's alleged incident, shows how crazy things were in Chicago Friday night.
[h/t and video via DNAinfo, image via Chicago Police]
Have a tip we should know? [email protected]