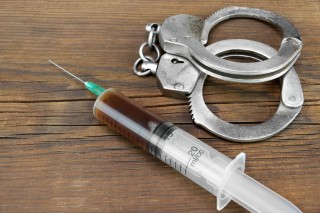 People addicted to drugs who want to kick their habits may have difficulty getting treatment if they don't have insurance to cover it. According to a Star-Ledger editorial posted on NJ.com, New Jersey has an insufficient amount of treatment centers, which makes it difficult to get help. Unless, of course, you're in jail.
State Senator Joseph Vitale said, "The reality is if you have lousy insurance or none at all and want to get treatment, you have to get arrested."
One man figured that out. On August 12, Troy Crane of Plainfield , who did not have insurance, went to a bank and said he was going to commit a crime. He then sat until police came and picked him up.
A new bill, however, looks to fix the system. It says that the rate of fatal overdoses in New Jersey is more than three times the national average, and looks to fix this problem. If passed, it would allow individuals seeking to treatment to show up at a police station and turn over drugs without being arrested. They would then get to work with a volunteer who would help them with their recovery. The editorial claims that Governor Chris Christie is not expected to sign the bill, however, because it does not provide for expanding treatment capabilities.
Nevertheless, police in West Orange are already planning on starting a program like this in October. The bill mentions that a similar program already exists in New Brunswick, NJ.
Have a tip we should know? [email protected]