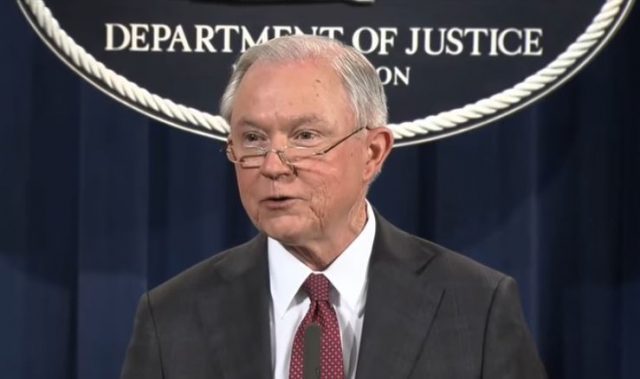 On Thursday, Attorney General Jeff Sessions announced that he will recuse himself from any potential investigation regarding President Donald Trump's campaign's ties to Russia. Sessions was outed this week as having at at least two meetings with the Russian Ambassador to the U.S. during the campaign, despite saying at his confirmation hearing that he had not any any Russian contacts. Still, because he was part of the campaign, Sessions agreed to take the advice of Justice Department ethics advisers and remove himself from any probe into the campaign's Russian connections. So what does that mean moving forward?
For starters, it means that Sessions, who oversees the entire Justice Department, including the FBI, will not oversee a Trump-Russia investigation. That role will fall to Deputy Attorney General Dana Boente. Boente has been the DOJ since 1984, when he joined the Tax Division's Criminal Section. He went on to become an Assistant U.S. Attorney in the Eastern District of Virginia's Fraud Unit 2001. He was eventually nominated by President Barack Obama to be the U.S. Attorney for the Eastern District of Virginia. Boente rose to greater prominence earlier this year, when President Trump fired acting Attorney General Sally Yates and made Boente the acting AG until Sessions' confirmation.
Since Boente will be at the top of any investigation into the Trump campaign's alleged connections with Russia, it will be his decision whether to appoint a special prosecutor for the case. Federal law says that "in cases in which the Attorney General is recused, the Acting Attorney General, will appoint a Special Counsel when he or she determines that criminal investigation of a person or matter is warranted," if the prosecution "would present a conflict of interest for the Department or other extraordinary circumstances," and it would be in the public interest.
There are already calls for Boente to appoint a special prosecutor. Senate Minority Leader Chuck Schumer said Thursday, "While Mr. Boente doesn't have the long political ties to President Trump, he is still in the President's chain of command and could be fired at will by the President, who has already fired the first person in this position."
Clearly, just by virtue of being part of the Trump administration, Boente raises doubts in Schumer's mind, even though former Democratic AG Loretta Lynch had high praise for him, calling him "one you could always count on to be there for you."
If Boente doesn't, Schumer said he would push for legislation that would put the decision of appointing special counsel in the hands of a three-judge panel, instead of the acting AG. This is similar to how the process used to work under the Ethics in Government Act of 1978, which was passed after the Watergate scandal.  The parts of the Act related to independent counsels are no longer on the books, however, after criticism due to independent counsel Ken Starr's investigation of President Bill Clinton.
Of course, with the GOP controlling Congress, reinstating such rules may not be likely.
[Image via ABC News screengrab]
Have a tip we should know? [email protected]