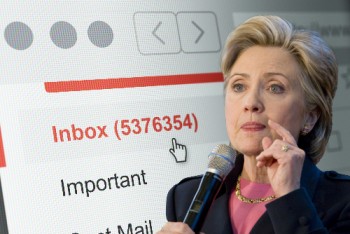 There has been a lot of speculation about possible cooperation between Hillary Clinton's campaign and the State Department over the disclosure of her emails from her tenure as Secretary of State.  That speculation now appears to be somewhat confirmed by an email included in the latest data dump by Wikileaks.
The email, dated March 17, 2015, was sent by Heather Samuelson and it warns top Clinton campaign officials about a pending release of State Department emails in a Freedom of Information Act lawsuit filed by the government watchdog group Judicial Watch.  The FOIA request sought information about the discussions between the State Department and Clinton Foundation regarding speeches given by former President Bill Clinton during his wife's time at the State Department.
Judicial Watch president Tom Fitton told LawNewz.com they thought it was an abuse of FOIA exemptions to allow the Clinton Foundation to review the materials before they were released.  And, he added, the newly released email appears to show those concerns were justified.
Here is why:
Samuelson's email provides evidence that she received information about the pending State Department release several days before the material was turned over to Judicial Watch on or about March 26, 2015.
"All — DOS is soon releasing another round of documents and email traffic (not hers) in response to Judicial Watch's FOIA request on DOS's process for reviewing WJC's speaking engagements. It's 116 pages with approx. 50 sponsor/subsponsor requests. No objections by DOS in this batch, but some lengthy internal discussions among DOS officials that I highlighted below," Samuelson wrote in the email.
She then provided a detailed summary of the specific documents that the State Department was required to release that might be a concern for the campaign.
Subsequent emails included in the chain show top Clinton campaign officials, including Cheryl Mills, Jennifer Palmieri, and John Podesta planned to speak with an official from Bill Clinton's office to further discuss the email release.
Samuelson left the State Department in 2013, so it is unclear why she was given this information before it was released publicly.  One possibility is that she received the information from the Clinton Foundation.  As part of the FOIA lawsuit, the State Department successfully argued that the emails would need to first be reviewed by the Clinton Foundation because they potentially contained information exempt from FOIA under exception 4.  According to the Department of Justice website, "Exemption 4 of the FOIA protects 'trade secrets and commercial or financial information obtained from a person [that is] privileged or confidential.'"
So, it may be possible that Samuelson received the information from the Clinton Foundation — after they received it from the State Department. Though, it is also not clear whether Samuelson worked for the Clinton Foundation in any capacity during that time period.  Her address appears to be associated with the CDMillsGroup, a business associated with Cheryl Mills.  LawNewz.com reached out the Clinton Foundation to verify the status of Samuelson's relationship with the charity, but we have not received a reply.
Update: 
In response to questions about the email, State Department spokesman John Kirby told LawNewz.com:
The State Department does not comment on alleged leaked documents. But generally speaking, when processing documents for release through the Freedom of Information Act, it is standard practice for the State Department to refer documents to private companies and other outside organizations – including the Clinton Foundation – if the Department believes proprietary information may be contained in the documents. Outside entities are routinely given a chance to review documents and provide input to the Department about proprietary information that may need to be protected from public release. Final decisions about redactions are made by the State Department.
Have a tip we should know? [email protected]