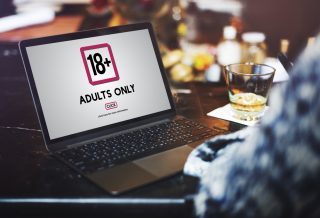 A statute that called for websites to verify the ages of its users before granting them access to sexual content was shot down by a Louisiana judge. The law, known as H.B. 153, created the criminal offense of "Unlawful distribution of material harmful to minors through the Internet," and was to force "[a]ny person or entity in Louisiana that publishes material harmful to 10 minors on the Internet" to ask its users to confirm that they are at least 18 years old before viewing sexual material. Anyone who failed to conduct age verification would be subject to a $10,000 fine, although they would not be held responsible for viewers who lied about their ages.
Two bookstores, a magazine publisher, the American Booksellers Association, and the Comic Book Legal Defense Fund sued the state Attorney General and the various District Attorneys in Louisiana to block the law. They claimed the law was overbroad in its description of prohibited material, and placed to harsh a burden on businesses. The law described a variety of types of sexual content that fell under the category of "material harmful to minors," and gave exceptions for content that had "serious literary, artistic, political, or scientific value for minors."
The complaint pointed out that "there is a broad range of material that has serious literary, artistic, political or scientific value for some 17-year olds which might be considered harmful to a 10-or 12-year-old." By prohibiting older minors like 17-year-olds from viewing content that may be suitable for them but not younger kids, the law violated the free speech rights of old minors and publishers, the plaintiffs argued.
Additionally, the lawsuit argued that some bookstores in the state have millions of images on their sites, and it would be a tremendous burden "to parse through every one of the millions of images in their online catalogs in order to determine whether it might be deemed harmful to minors." The alternative, which would be to verify a user's age when they first access a website, would prevent minors from viewing or purchasing material that is suitable for them, and would cause a loss of business for the stores, they plaintiffs claimed. On top of that, they said that the law wouldn't even achieve the state's goal of protecting minors from harmful material, because most material is produced outside of Louisiana, and the law wouldn't keep children from viewing content on the rest of the internet that wasn't covered by the statute.
Judge Brian A. Jackson agreed, and earlier this year issued an preliminary injunction which blocked the state from enforcing the law while the case was going on. Court records show that the state eventually agreed to give up their fight, and Judge Jackson then entered a Final Decree and Final Judgment permanently blocking the state from enforcing the law.
"We are thankful for the court's decision to permanently block this law that would have forced booksellers and publishers to restrict access on their online stores to what is acceptable for a 12 year old," said David Horowitz, executive director of Media Coalition, one of the organizations who represented the plaintiffs, alongside the Louisiana American Civil Liberties Union and the national ACLU. "The court agreed that parental controls are a more effective and less restrictive way for parents to limit their kids' access to sexual material on the Internet without violating the First Amendment rights of adults and older minors."
Britton Trice, owner of Garden District Book Shop, one of the stores who brought the case, was glad she doesn't have to face the law's restrictions. "I'm very relieved by the decision," she said. "This law would have had a definite chilling effect on our business, depriving our customers of books that they have a First Amendment right to browse and buy."
Garden District Book Shop Stewart Permanent Injunction by LawNewz on Scribd
[Image via Shutterstock]
Have a tip we should know? [email protected]