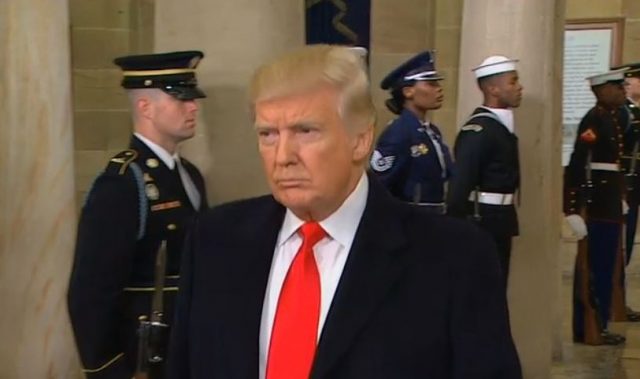 Helen Beristain is a vocal supporter of President Donald Trump. She's said in the past that she voted for the President because she agreed with an immigration policy that he promoted. Now, as her husband is about to be deported, her family is on the wrong side of a system she thought would spare them.
Eddie's Steak Shed owner to be deported Friday, according to family https://t.co/HqeZi5CTv9 pic.twitter.com/ygt7ghYqUn

— WNDU (@WNDU) March 22, 2017
Helen's husband, Roberto Beristain, came to the U.S. from Mexico in 1998 to visit a relative, then decided to stay in the country illegally. In 2000, he accidentally crossed over into Canada on a trip to Niagara Falls, and ended up being detained, and was told he had to leave the U.S. He didn't, because Helen was pregnant at the time, according to Indiana Public Media. He reportedly arranged with U.S. Immigration and Customs Enforcement (ICE) to stay in the country and received documentation to work in the U.S., as well as a driver's license and social security card. He had been periodically checking in with ICE.
However, since Roberto remained in the country instead of voluntarily deporting himself in 2000, ICE had the authority to take him into custody. When ICE stumbled upon this incident in February of this year, they did just that, and sent him from his home in Granger, Indiana, to a detention facility in Kenosha, Wisconsin. He is set to be deported on Friday.
Helen Beristain was under the impression that only dangerous criminals would be deported under the Trump administration. Despite early campaign promises to deport every undocumented immigrant from the country, Trump later appeared to soften, saying that criminals were the top priority. Now however, after more than a decade of ICE check-ins went by without a problem, and roughly two months after Trump took office, Roberto is being deported.
"[Trump] did say the good people would not be deported, the good people would be checked," Helen said. Indeed, the mayor of neighboring South Bend, Indiana, said that Roberto, a local restaurant owner, is a model citizen "without so much as a traffic ticket against his name." Many conservative neighbors have supported him as well.
In addition to Helen, Roberto will be leaving behind four daughters and 20 employees.
LawNewz.com attempted to reach Beristain's immigration attorney for more information, but was unsuccessful.
Note: This article has been updated to include that Beristain has a driver's license and social security card, and to reflect that Beristain entered the country legally and then remained illegally. An earlier version of this article said he entered the country illegally.
[Image via CNN screengrab]
Have a tip we should know? [email protected]