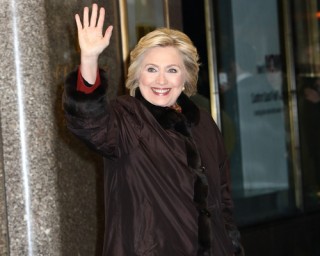 The FBI investigation into Hillary Clinton's private email server just took a very significant turn, legally speaking. As The Washington Post first reported, the U.S. Department of Justice (likely through a federal judge) granted immunity to Clinton's aide Bryan Pagliano who helped set-up her privately maintained email server. We checked in with our legal sources from former federal prosecutors (both Republicans and Democrats) to Washington D.C. insiders, most agree that the immunity deal is a serious step in the FBI's investigation for several reasons.
1) The move could be an indication that investigators are focusing in on more higher ranking individuals
2) The FBI may be zeroing in on the motive behind why Clinton's email server was set up in the first place. Pagliano would know, he set it up.
3) The immunity deal could indicate that Pagliano has information that could be incriminating (to himself and/or others).
Here is a little background on the DOJ's policy for immunity. There are various types. We asked a former U.S. Attorney  to explain the process most likely used in Pagliano's case.
"If it is a process that is usually used that means a Grand Jury has been impaneled, and federal prosecutors sought testimony of the witness (Pagliano) who invoked his Fifth Amendment rights. The next step in that process is that the prosecutors ask U.S. Attorney General Loretta Lynch to grant immunity, and then they take that request to a district judge," former U.S. Attorney Paul Charlton told LawNewz.com.
In addition, Pagliano's immunity is likely the result of what's called a "proffer." A proffer is an agreement between a prosecutor and a witness to provide information about a crime, with the assurance he won't be prosecuted. It's kind of like a sneak peak of what the prosecutors will get if the witness ends up giving testimony.
So, what are the legal repercussions for Clinton and her aides if Pagliano cooperates with the feds?
"It is a significant move that is ordinarily a part of a prosecution plan targeting more central or higher ranking individuals," well-known attorney and George Washington University law professor Jonathan Turley said.
Generally speaking, the government is not going to offer immunity unless the information they are getting in return is beneficial to their investigation. "Giving immunity is significant. First, it confirms in my view that there is criminal exposure for this witness and by extension Mrs. Clinton. Either the DOJ has advised the witness he is a target or subject of a criminal investigation, or his attorney has independently concluded from his interactions with the witness there is criminal exposure," Bill Thomas, a former federal prosecutor told LawNewz.com in an email.
However, it is important to note, an immunity deal doesn't necessarily mean someone will end up getting indicted. "Sometimes, I, as  a prosecutor would give immunity even when I wasn't planning to prosecute that person, just to get more information about what happened," Henry E. Hockeimer, another former federal prosecutor who has worked on public corruption cases told LawNewz, "What this guy has to say may dictate whether this inquiry moves forward."
And that's why Pagliano's cooperation could be so significant, and why this immunity agreement should matter to Hillary. Pagliano could give investigators a glimpse into the motive behind why Clinton wanted this private email server set up in the first place. After all, he was the State Department employee who set up it up  in her home in New York back in 2009, when she was secretary of state.
"There is a state of mind component, this sort of stated reason or motive which could have a bearing with whatever criminal conduct is under investigation. If the witness (Pagliano) has evidence, as to stated reason or purpose for the home server, that would be a crucial piece of evidence," Jim Harmon, a former federal prosecutor told LawNewz.com.
Though, to be fair, not all legal insiders we spoke with believe the immunity deal amounts to a big break in the investigation "I wouldn't read all that much into it if I was representing this guy and I knew there was FBI inquiry, I would ask for something too,"  Elkan Abramowitz, a high profile Washington D.C. based attorney told LawNewz.com.
While immunity agreements are somewhat routine in federal investigations, not all federal investigations involve the Democratic presidential front runner. So every step along the way does matter. "Hillary is going to have to be interviewed and she will be interviewed," Abramowitz told LawNewz.com.
On Thursday afternoon, Brian Fallon, Clinton's spokesperson, brushed off the significance of the immunity deal on CNN. He says Clinton is fully cooperating with the investigation. Whether Clinton's campaign will admit it or not, an immunity deal is, at the very least, a clear indication that the FBI is moving forward with their investigation at a very rapid pace.
[image via shutterstock]
Have a tip we should know? [email protected]
Rachel Stockman - President / On Air Host