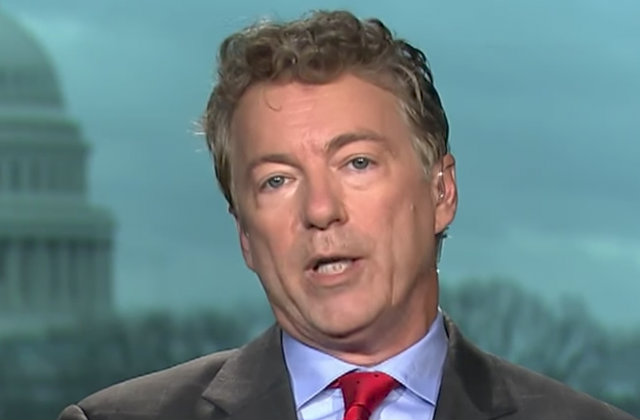 Kentucky Senator Rand Paul is recovering from an attack at his over the weekend, when neighbor Rene Boucher allegedly caused him to suffer five broken ribs. So far, Boucher is charged with Assault in the Fourth Degree, which is just a misdemeanor with a maximum sentence of one year of imprisonment. The extent of the injury has led some to wonder why Boucher wasn't charged with a felony.
How the heck is this fourth degree assault?? https://t.co/atHrzrtrm0

— Phil Kerpen (@kerpen) November 5, 2017
To try to figure this out, let's take a look at the Kentucky criminal statutes. Under Kentucky law, Assault in the Fourth Degree is defined as when a person "intentionally or wantonly causes physical injury to another person," or "With Recklessness he causes physical injury to another person by means of a deadly weapon or a dangerous instrument.
Assault in the Third Degree, which is a Class D felony that carries a penalty of between one and five years in prison, is reserved for cases where a person injures a certain type of official, but U.S. Senators are not on that list.
Assault in the Second Degree, however, does not require that the victim be one of those listed officials. It does, however, require that they either cause an injury by use of a weapon, or that the injury be considered a "serious physical injury." That crime is a Class C felony that carries a penalty of five to 10 years in prison.
Reports have not said whether Boucher is accused of using a weapon, but the Kentucky Penal Code defines "serious bodily injury" as:
physical injury which creates a substantial risk of death, or which causes serious and prolonged disfigurement, prolonged impairment of health, or prolonged loss or impairment of the function of any bodily organ
This is where it gets tricky. Paul's senior adviser Doug Stafford said that the Senator's rib fractures include three displaced fractures, which can result in injuries that are life-threatening. This information comes from an adviser, not a doctor, so this injury may not be enough for law enforcement officials to consider it to have a "substantial risk of death." There is also no indication that Paul will suffer any prolonged disfigurement or impairment of health, and there is no report that he has suffered any organ damage.
That's not to say that prosecutors can't upgrade the charge. Should the Republican Senator take a turn for the worse as a direct result of Boucher's alleged actions, he could end up facing a felony charge.
For the record, Assault in the First Degree, Class B felony that carries a 10 to 20 year prison sentence, requires both "serious physical injury" and use of a "deadly weapon or dangerous instrument," or  wantonly engaging in "conduct which creates a grave risk of death to another," causing injury through "circumstances manifesting extreme indifference to the value of human life."
Boucher has since been released on $7,500 bail and was ordered to stay 1,000 feet away from Paul (except for when he's in his home which is 200 feet away from Paul's). Boucher also is prohibited from contacting Paul or his family, and he cannot possess any weapons or firearms.
[Image via MSNBC screengrab]
Have a tip we should know? [email protected]