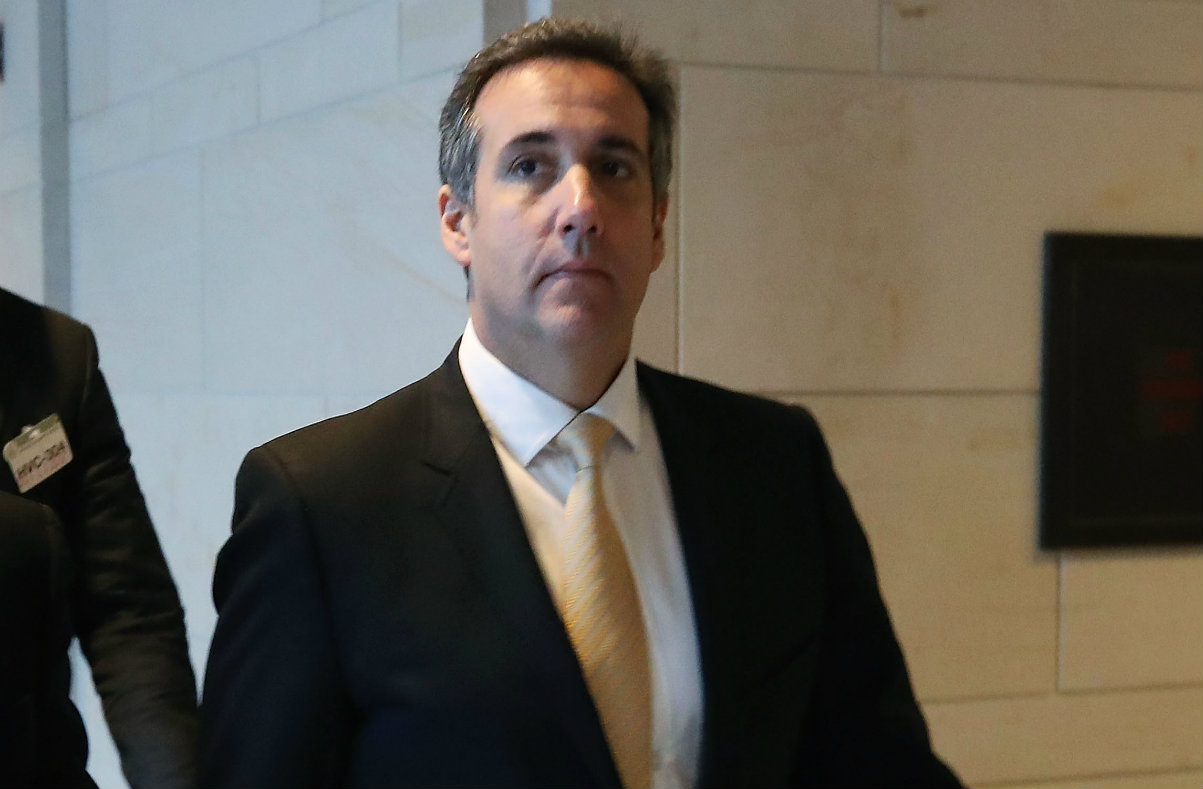 The news Monday afternoon that the FBI raided President Donald Trump's attorney's office strongly suggests that Michael Cohen should be very, very concerned that he may be next to face criminal charges or is at the very least in serious legal jeopardy.  For one, this appears to be a part of an entirely separate investigation looking into Trump's world that is different from the Russia probe. The New York Times cites Cohen's attorney who claims this raid was part of a referral from Robert Mueller's Russia probe. However, even Cohen's attorney  Stephen Ryan admits the New York action is, in part, a referral by the Office of Special Counsel, Robert Mueller. (Emphasis ours).
This looks to be part of an ongoing probe in the U.S. Attorney's Office in the Southern District— meaning the investigation was likely already ongoing, or had been based on another tip. It also appears to go much further than allegations surrounding Cohen's payment to Stormy Daniels.
"This kind of coordination in multiple searches, in conjunction with news reports that investigators had been looking into Cohen's business dealings, leads me to believe there is more here than campaign finance violations, but that is impossible to know without seeing the search warrant affidavit, which remains sealed," explained Daniel Goldman, a former federal prosecutor with the Southern District.
For those already claiming that Mueller has gone "rogue" by searching Cohen's office, it is worth noting that the interim U.S. Attorney for the Southern District, Geoff Berman, a Trump appointee, would have signed off on this warrant.
"Search warrant for lawyer's materials requires heightened probable cause and additional layers of review on both the front end and the back end," Goldman explained.
Not only that as federal defense attorney Page Pate pointed out, Main Justice (i.e. Jeff Sessions' office)  would have also had to be consulted according to DOJ policies about federal searches of attorneys.
The appointed US Attorney has to approve, and they need to consult with Main Justice. See Section C of this policy – https://t.co/9FywEPoMbB

— Page Pate (@pagepate) April 9, 2018
In addition, a federal judge must issue a search warrant. For one to be granted, prosecutors must show that there is probable cause that a crime was committed and that the items listed in the search warrant are related to the crime. You will notice that the items seized go far beyond just information related to Cohen's payments to porn star Stormy Daniels and include emails, tax documents and business records, according to reports.
Secondly, this could be a serious problem for Cohen himself, because a seizure like this would not happen simply because Mueller or a U.S. Attorney wanted to snoop around and find dirt on Trump. That would violate attorney-client privilege.
Prosecutors have an added burden when they are dealing with attorney-client privileged material when it comes to a search like this. They would have to show that the evidence falls within the so-called crime-fraud exception.
"There is a couple ways that attorney client privilege doesn't apply," explained former federal prosecutor Mimi Rocah. "You need to show that the attorney client relationship was used in furtherance of a crime. Even though the relationship was client/lawyer, and he might have been acting as a lawyer, prosecutors would allege it was used in a way to contribute to a crime being perpetrated."
The American Bar Association explains it like this:
The crime-fraud exception cannot be used to pierce the attorney work-product privilege without the required showing that the work product was actually used in furtherance of the purported crime or fraud. The U.S. Court of Appeals for the Third Circuit clarified that, without more, even compelling evidence of a crime or fraud is insufficient to invoke the exception. The ruling has important ramifications for practitioners advising clients on the contours of lawful conduct.
Thirdly,  it is significant that the feds decided to raid the offices instead of issuing a subpoena to get the documents. Mr. Cohen's attorneys have called the search "completely inappropriate and unnecessary." However, if it was unnecessary, and the feds thought that Cohen would comply with a subpoena, they may have chosen this much cheaper and less invasive option.
"Rather than rely on Michael Cohen to make that determination – in which case he would never apply the crime-fraud exception – the government decided to seize everything and make that determination itself. They either think Cohen would obstruct justice if subpoenaed or, more likely, he would have an overly broad view of the attorney client privilege and withhold relevant documents on that basis," Goldman explained.
Law&Crime editor Ronn Blitzer contributed to this report. 
Have a tip we should know? tips[email protected]
Rachel Stockman - Editor in Chief / On Air Host