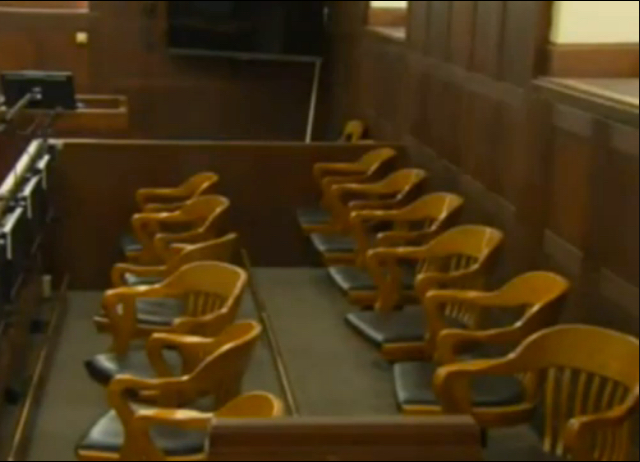 The U.S. Constitution guarantees a person charged with a crime the right to be tried by a jury. But does a criminal defendant have a right to waive a jury trial and be tried by a judge instead of a jury? It depends.  In a federal courtroom the answer is no, unless the prosecutor consents, and federal prosecutors rarely consent.  But in many state courtrooms,  including New York, the answer is yes, even if the prosecutor objects. And interestingly, in many recent  high-profile criminal cases, especially cases in which police officers were charged with homicide for fatally shooting a civilian, the defendant-officers opted for a "bench trial" rather than a jury trial, and in every case were found by the judge not guilty.
This week, in Bronx, New York, the trial of a police sergeant has commenced in which he is charged with murdering a 66-year-old schizophrenic black woman. The officer, Hugh Barry, has opted for a judge-trial instead of a jury trial. Sergeant Barry, who is white, claims that the victim, Deborah Danner, wielded a baseball bat when he shot her, twice, allegedly in self-defense.  The facts are complicated, and the emotions surrounding the case are intense. The case has attracted considerable media attention, numerous street protests, and public statements by New York's mayor Bill DiBlasio and Police Commissioner James O'Neill condemning the shooting.  
The decision by Sergeant Barry to waive a jury is not unusual.  Indeed,  in several other recent police shootings,  the police officer-defendants opted for a trial before a judge instead of a jury, and always won.  In Baltimore, Maryland, in the high-profile case involving the 2015 death of Freddie Gray,  three officers charged in connection with his death bypassed a jury for a judge-trial, and all were acquitted. In Cleveland, Ohio, police officer Michel Brelo, charged with manslaughter in the 2012 deadly chase and fatal shootings of Melissa Williams and Timothy Russell, was tried before a judge and acquitted.  In St. Louis, Missouri,  police officer Jason Stockley, charged with the 2011 murder in the shooting of Anthony Lamar Smith, waived a jury trial and was acquitted by the judge. In Queens, New York, three officers charged in 2008 with fatal shooting of Sean Bell outside a strip club were acquitted by a judge.  Indeed, I have found no recent case in which a police officer charged with the unlawful death of a civilian and tried by a judge has been found guilty.
Even though a jury is supposed to be the conscience of the community and one of the greatest bulwarks against government oppression, defense lawyers occasionally decide to waive a jury trial and place their client's life and liberty in the hands of a judge. The reasons they make this choice are not that hard to surmise.  One of the principal impetuses to waiving a jury is the fear that a jury might be less likely to evaluate the facts dispassionately and might be more prone to bring into their judgment undue emotion.  Thus, in many urban settings where police conduct is increasingly being criticized, especially in racially-charged confrontations with civilians, a police officer's decision to bypass a jury in favor of a judge might seem like a prudent decision. For example,  given the widely-held perception of Bronx County as harboring a significant anti-police bias, as well as the undoubted sympathy that jurors would feel for Ms. Danner's mental and emotional condition, Sergeant Barry's decision to waive a jury does not seem unreasonable.
By the same token, in a jurisdiction in which strong anti-immigrant feelings predominate, a decision by an immigrant-defendant to bypass a jury for a judge-trial is also understandable.  So too would be a decision in a case involving a vile and despicable type of crime, such as a sexual assault of a child. Reinforcing the decision to forego a jury would be  an assessment by a defendant that the case involves difficult legal issues that a judge would be better able to analyze more carefully than a jury, and particularly a case where witness-credibility might not that critical a factor. Also, a judge's background might be a relevant consideration in the decision. Indeed, a judge learned in the law might be seen as preferable to a jury, especially if there are complex legal issues. Moreover, the fact that several of the judges in the above police trials were former prosecutors could also factor into the decision.  It would not be unreasonable for a defense lawyer to believe that the judge based on his prosecutorial experience might have a pro-police bias, or at least be in a position to more intelligently understand the circumstances facing the officer when he concluded that lethal force was necessary.     
Why have judges so consistently acquitted police officers? Are they biased? Maybe.  I recall as a prosecutor appearing before a judge, Gerald Culkin, whose reputation as a fair and impartial jurist was probably the worst of any sitting judge in New York.  Defense lawyers, especially Culkin's cronies, would try to steer their cases to him.  I recall one celebrated case involving a high-ranking police lieutenant – Francis X. Ward – whose corruption case was dismissed by Culkin.  The District Attorney appealed, and Culkin was unanimously reversed.  
I do not suggest that  any of the judges who acquitted the police officers in the above cases harbored a bias in favor of the officer. But sometimes a latent bias may be inferred. For example, Judge Timothy Wilson, the St. Louis judge who acquitted officer Jason Stockley of the murder of Anthony Lamar Smith, is a former prosecutor who may have revealed a pro-prosecution bias when he stated in his ruling that from his experience, "an urban heroin dealer not in possession of a firearm would be an anomaly."
The judge in the current Hugh Barry trial in the Bronx, Robert Neary, is a former prosecutor, but there is nothing I have seen to suggest that he will not judge the case fairly and impartially. However, to some observers, it is regrettable that a jury has been sidelined in the case and therefore unable to have a voice, as the "conscience of the community," not just in protecting the defendant, but in protecting the community as well.
Professor Bennett Gershman is a Professor of Law at the Elisabeth Haub School of Law at Pace University, a former prosecutor in the Manhattan District Attorney's Office, and a Special Assistant Attorney General in New York State's Anti-Corruption Office. 
This is an opinion piece. The views expressed in this article are those of just the author.