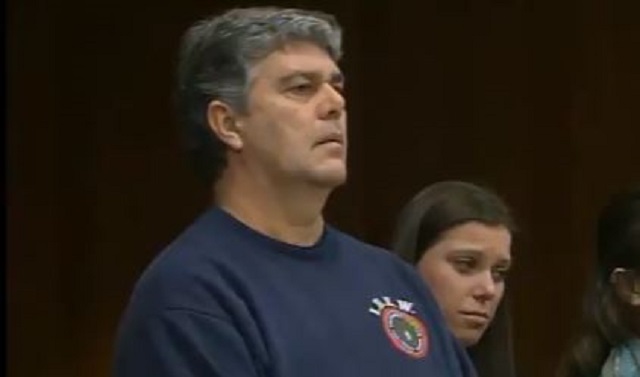 This morning, at the sentencing hearing of former USA Gymnastics doctor Larry Nassar, who pleaded guilty to sexually abusing women and girls under the guise of medical treatments, the father of three victims tried to attack him. Randall Margrave was taken down by court officers before he could get his hands on Nassar, and could face charges himself.
Lawyers who saw what happened quickly took to Twitter to say they'd be happy to represent Margrave for free.
I'll represent this father for free. https://t.co/o85YNBNHd5

— Bakari Sellers (@Bakari_Sellers) February 2, 2018
I'm happy to be co-counsel. Also on a pro bono basis.

— SpinDoctor (@SpinDr) February 2, 2018
Can I please represent the father who charged at Larry Nassar? Pretty please?!?

— Tamara Holder (@tamaraholder) February 2, 2018
Now, there are legal ethics rules against soliciting clients by "in‑person, live telephone or real-time electronic contact," although typically that prohibition is only where "a significant motive for the lawyer's doing so is the lawyer's pecuniary gain." Here, some lawyers are clearly offering free representation, and the motivation for all of them is likely sympathy for Margrave's situation, not desire for his money. While some states don't even have these exceptions, the tweets were not direct messages to Margrave, and may not have been serious.
Attorneys aren't the only ones making offers to Margrave.
Randall Margraves drinks free in any bar I'm in at the same time.

— Pflugerville Pfernando (@Crapplefratz) February 2, 2018
The generosity is just pouring in.
Have a tip we should know? [email protected]