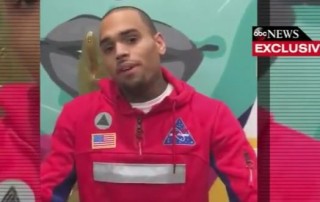 A week ago, police surrounded the home of R&B star Chris Brown, after a house guest, former beauty queen Baylee Curran, reported that he threatened her with a gun. Brown drew attention from the public by posting a series of Instagram videos reacting to the cops outside his door while claiming he was innocent.
Turns out, he may be right. There is now evidence that the whole thing may have been a setup. Brown's lawyers claim to have discovered a text message that Curran supposedly sent to a friend, saying that she was going to frame Brown for kicking her out of his home. The message, obtained by "Good Morning America," says, "I'm going to set him up and call the cops and say that he tried to shoot me and that will teach him a lesson. I'm going to set his [expletive] up." Curran claimed that Brown pulled a gun on her and told her to leave the house when he spotted her looking at jewelry.
LawNewz.com founder Dan Abrams discussed the case on GMA Tuesday morning, and said that if the text is in fact real, the case against Brown falls apart. "If this text is real and there's no other context out there, this case is over," Abrams said. Not only that, Abrams indicated that Curran herself may be in trouble if authorities believe that the text is real. "If they become convinced that she filed a false police report, and they have to be convinced of that, she could face charges."
Curran's representatives told ABC News that they don't believe the text is real, and that Curran stands behind her story.
Even without the text message, however, the case against Brown is missing key evidence, according to his attorney, Mark Geragos. Geragos told ABC News that Curran had described jewelry and a gun to police, but when officers searched Brown's home, they didn't find anything matching those descriptions.
[Screengrab via ABC News]
Have a tip we should know? [email protected]