The Trump administration caused a bit of a social media storm on Sunday after it was noticed that the official website, WhiteHouse.gov, no longer had any information about the Judicial Branch under the "Our Government Section."  Instead, there was a section called "The Constitution."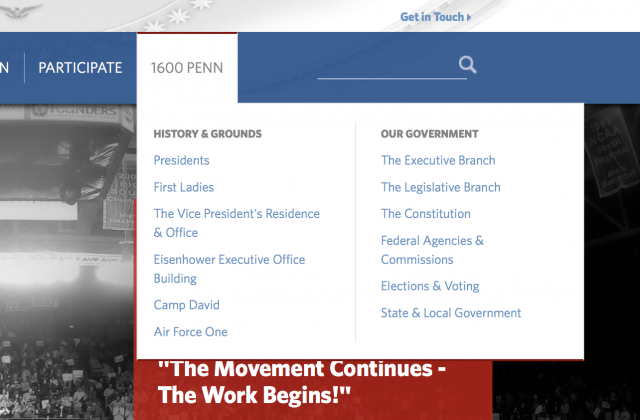 As of 9:00 A.M. Monday morning, the website remained the same, and the Judicial Branch was nowhere to be seen.
One Twitter user issued a tweet showing how it appeared under the Obama administration just a few weeks ago.
#Obama White House on the left.
#Twitler HQ on the right: #judiciary is missing.
If he comes #TurnYourBackOnTrumppic.twitter.com/SggNIHoezE

— Bonnie Greer (@Bonn1eGreer) January 30, 2017
According to one report, the "The Judicial Branch" link existed at least as late as January 19th, though it is unclear if Trump had it intentionally removed.
The reason it appears to have received new attention on Sunday is because of the emergency court order entered by a federal judge late Saturday blocking partial implementation of Trump's Executive Order for "extreme vetting."
LawNewz is attempting to contact the White House and we will update the story with more information as it becomes available.
Update 1/30/17 4:43pm: At long last, the Judicial Branch's section has reappeared on the White House website, and the Constitution section remains.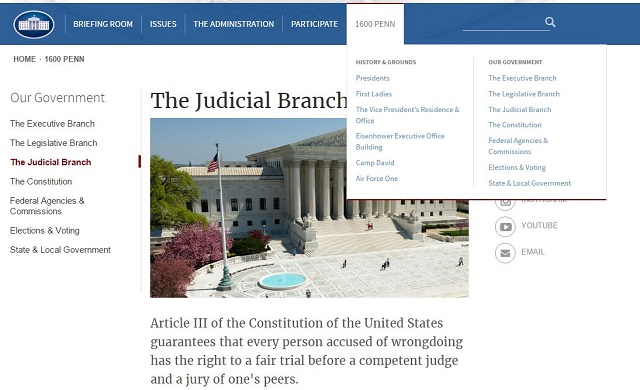 [image via screengrab]
Have a tip we should know? [email protected]