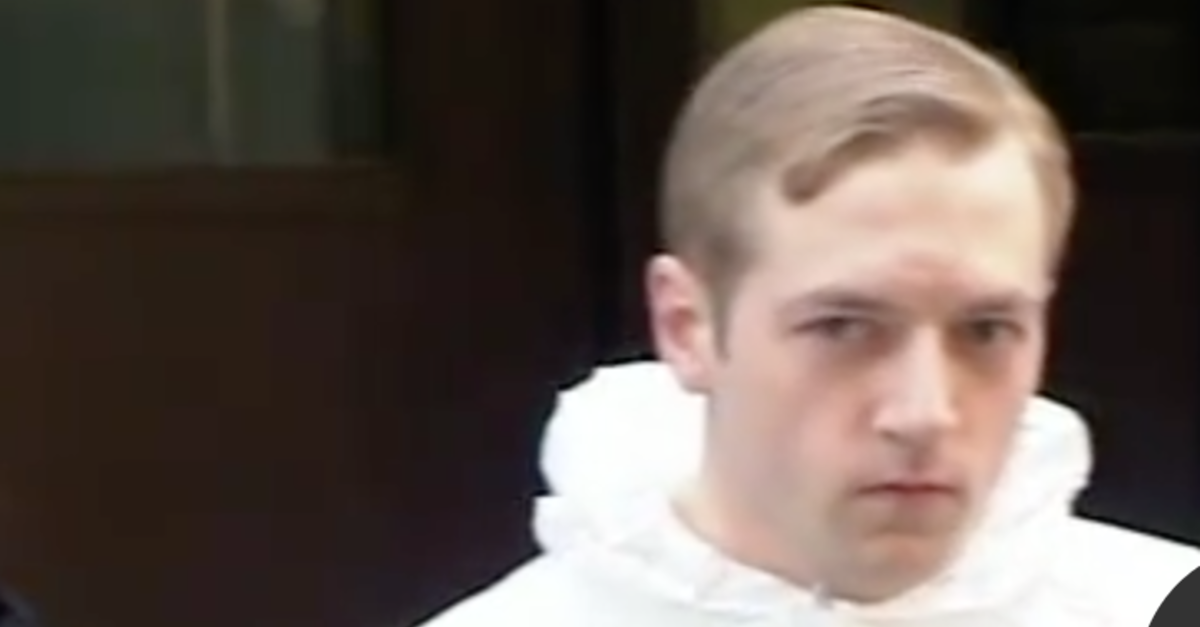 James Harris Jackson is a veteran of the U.S. Army and self-declared white supremacist. The 28-year-old is also a murderer who holds the distinction of being the first white supremacist convicted on terrorism charges in New York State's 231-year history. On Wednesday morning, Jackson was sentenced to life in prison.
Jackson traveled from Maryland to New York City where he killed 66-year-old Timothy Caughman in midtown Manhattan on March 20, 2017. Jackson admittedly targeted Caughman, who is black, due to the color of his skin. The elderly man's death–which Jackson committed using a sword–was intended to be the first of many racially-motivated murders and Jackson said he considered Caughman's death "a practice run."
Jackson had intended to set off a "race war" by slaughtering black men en masse across New York City's five boroughs. Several additional murders were planned, Jackson told police, but that plan fell through. After killing Caughman, Jackson says ,he became "depressed" and wanted to spare his reportedly left-leaning family "any more pain." Jackson eventually turned himself in and apologized–for not killing a younger black man instead.
"I didn't know he was elderly," Jackson told the New York Daily News. He said that he would have rather killed "a successful older black man with blonds … people you see in Midtown. These younger guys that put white girls on the wrong path." The ultimate goal of his "declaration of global total war on the Negro race," he said, was to keep white women from entering into interracial relationships. Jackson told the Daily News he hoped white women would think, "Well, if that guy feels so strongly about it, maybe I shouldn't do it."
As Law&Crime previously reported, the Caughman murder case came to a conclusion last last month when Jackson pleaded guilty to six felonies and misdemeanors including: Murder in the First Degree in Furtherance of an Act of Terrorism, Murder in the Second Degree as a Crime of Terrorism, Murder in the Second Degree as a Hate Crime, and Criminal Possession of a Weapon in the Fourth Degree.
Those pleadings, however, were far from a series of unimportant legal banalities or even an over-charged set of unnecessary penalty enhancements, according to criminal justice experts.
Law&Crime columnist and legal analyst Elura Nanos explained how Manhattan's district attorney pressed for–and obtained–the terrorism convictions against Jackson:
Under the applicable statute in New York, which mirrors the FBI guidelines to define terrorism, Murder in Furtherance of An Act of Terrorism is a murder committed "with intent to cause the death of another person," when the violent act was intended to, "intimidate or coerce a civilian population," "influence the policy of a unit of government by intimidation or coercion," or, "affect the conduct of a unit of government by murder, assassination or kidnapping."
"Under the statute, therefore, no meaningful distinction exists between violence committed against a government for political reasons or [violence] committed against an individual for racist ones," Nanos continued. "Terror is terror, regardless of the motivation for the underlying hate."
Jackson's conviction might very well be considered a harbinger of things to come in federal and state law enforcement as far as violent white supremacists are concerned.
A legislator in Ohio recently pushed to classify white supremacists and neo-Nazis like domestic terrorists. National law enforcement experts, in recent years, have admitted that federal, local, and state agencies operating under the myopia of the "Global War On Terror" mindset have been caught flat-footed by white supremacist, anti-Semitic, and white nationalist terror and violence. Such racist individuals, experts say, should be treated like ISIS radicals.
Perhaps surprisingly, Jackson's plea deal came with no distinction or advantage over being convicted through a jury trial.
Manhattan District Attorney Cyrus Vance made a rare appearance in the courtroom as Jackson was sentenced. Vance addressed media afterwards and trumpeted his office's convictions–by reading passages from Jackson's racist manifesto.
"'This political terrorist attack is a formal declaration of global total war on the Negro races. They must be exterminated as quickly as possible,'" Vance read out loud. "By targeting Mr. Caughman, [Jackson] was launching an attack against all African-Americans."
[Image via ABC screengrab]
Have a tip we should know? [email protected]