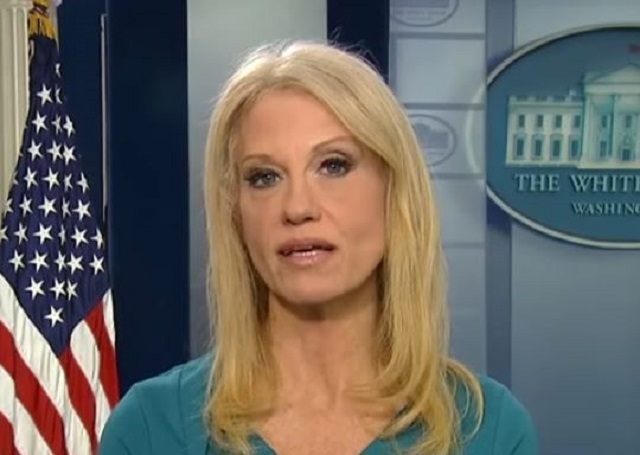 Kellyanne Conway, counselor to President Donald Trump, caught a lot of flack — as well as ethics complaints — after an appearance on Fox News during which she promoted Ivanka Trump's brand of products. White House Press Secretary Sean Spicer later said that Conway was counseled after the Fox appearance, and a White House attorney has now confirmed that this indeed happened.
Stefan Passantino, Deputy Counsel to the President for Compliance and Ethics, wrote a letter to the Office of Government Ethics (OGE), addressing OGE's recommendation to investigate Conway's statements. It is a violation of ethics rules for a federal employee to endorse a product.
After Ivanka Trump items had been pulled from stores like Nordstrom, Conway, in a show of support, gave Ivanka a "free commercial," telling viewers to "Go buy Ivanka's stuff."
In his letter, Passantino said, "I have personally met with Ms. Conway to review the Standards of Conduct that employees of the Executive Office of the President are expected to follow, including the provisions relating to the appropriate use of one's official position."
He added that he spoke to Conway before and after receiving OGE's letter, to discuss how what she said "implicated the prohibition on using one's official position to endorse any product or service."
Despite this, it doesn't look like the White House will be issuing any discipline, which may not be a surprise. Passantino said that Conway spoke "without nefarious motive or intent to benefit personally." He said that after speaking with Conway, his office "concluded that Ms. Conway acted inadvertently and is highly unlikely to do so again." Conway was recently pulled from making television appearances on behalf of the White House.
Have a tip we should know? [email protected]