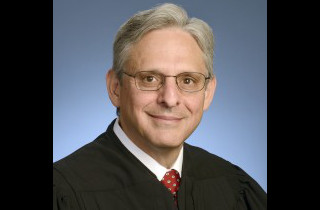 President Barack Obama's Supreme Court nominee, D.C. Circuit Chief Judge Merrick Garland, has "a really good chance" of confirmation, at least according to White House Counsel Neil Eggleston. However, the narrative of Congressional Republicans provides a stark contrast to Eggleston's  optimism.
On Friday, the top lawyer for the White House said that the President's pick to replace strict constitutionalist and conservative icon Antonin Scalia was an attempt to "play it straight," an exercise in realpolitik — politics based primarily on the considerations of given circumstances, rather than explicit ideological notions.
At a Politico event, Eggleston responded to speculation from Senate Judiciary Committee Chairman and Republican Chuck Grassley that Senate Democrats may be able to circumvent the Judiciary Committee's control over the voting process. Grassley admitted as much to constituents in Rock Rapids, Iowa last week. "I don't think that there's any way Republicans can keep from having a vote … sometime between now and the election," he said. "If [Republicans] think they're going to avoid this issue entirely, under the rules of the Senate, it isn't possible because of various motions that can be made."
The procedural tactic, known as a motion to discharge, would override the control Grassley and Majority Leader Mitch McConnell have via Senate majority. The motion to discharge would move the nomination out of the committee and onto the Senate floor, effectively forcing a floor vote on Garland. Of course, a vote is just a vote and does not guarantee Garland would be confirmed and subsequently appointed. The well-respected barrister would still need 60 votes for confirmation. The 46-member Democratic caucus, if they all voted to confirm, would be 14 votes shy.
"The Democrats are not looking for some kind of gimmick," said Eggleston. "It's important to the court that this process be handled in the way it's been handled in nominations going back to the beginning of the republic."
Senate Majority Leader Mitch McConnell has expressed objections, which he had begun voicing within an hour of the Supreme Court Justice Antonin Scalia's death, that the vacant seat should not be filled until after the election, saying that their objection was "about is a principle and not a person." McConnell has continuously reaffirmed his previous promise not to hold a hearing, and went so far as to guarantee there won't be a lame duck confirmation either.
Sen. Orrin Hatch, who at one point said, "I would like to see one person come to this floor and say one reason why Merrick Garland does not deserve this position," has sought to diminish his past praise of Garland's record, citing the "toxic environment" and "politicizing" of the Court as his justification for blocking any possible confirmation.
Sen. Grassley made it clear that the majority in the Senate has decided to withhold support for the nomination during the presidential election year and that it was well within its Constitutional authority to do so. Of that majority, Sen. Steve Daines (R-MT), Sen. David Perdue (R-GA) and Sen. Richard Shelby (R-AL) have said that they would not meet with the nominee.
Since his nomination, Garland has met with nine Democrats and one Republican. Garland will be meeting with at least 11 senators next week including Susan Collins (R-ME) and John Boozman (R-AR). Approximately 25% of the Senate's 54 Republicans have said they would meet with Garland. If they all voted to confirm, Garland would come very close to the 60 required votes. On Wednesday, Sen. Mark Kirk (R-IL), the only Republican to meet with Garland, called his colleagues who have refused to meet with Garland "closed-minded."
Democrats have officially suggested a timeline: Judiciary hearing starting April 27, a committee vote by May 12 and a floor vote by May 25.
[h/t NationalLawJournal]
Have a tip we should know? [email protected]