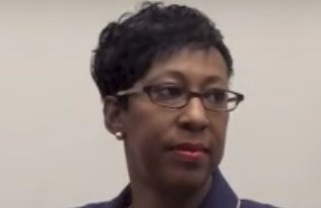 What do you call it when a judge warns a kid about prison rape? Tough love. Judge Verda Colvin pretty much shredded a courtroom full of children with her warnings about what happens to the incarcerated.
For example: "Somebody raping you in the middle of the night, and there's nothing you can do but just lay there because guess what, everybody got to get their turn," she said in a Thursday report from Fox 5 Atlanta.
It's part of "Consider the Consequences," a scared straight program at Bibb County, Georgia. As part of this, boys and girls age 9 to 17 were shown what it's like to be in jail. They were made to wear jump suits, and were put in cells. But it was their meeting with Judge Colvin that left some in tears. You can see the talk here. Forgive the grainy video quality because it's worth a watch:
"Stop acting like you're trash, and putting pictures of yourself on the Internet," she said in a comment aimed at the girls.
Early on, she whipped out a body bag to show them the worst possible consequence to a life of crime and violence.
"I am sick and tired of seeing people who look like you and I [black] come in my courtroom, and I have to sentence them to prison," Colvin later said. "And then you hear them fussing on TV about African Americans being in the prison system. Well, guess what, if you don't do what it takes to there, you won't be a part of it. You already know the game. If you know they [the police] come into your community more than they do in other communities, then guess what, you've got a heads up. So that means you've got to do what's right, right?"
But Colvin's tough lecture was tempered by an undercurrent of compassion. She voiced a hope—a demand, really—that she never see those kids in her courtroom ever again, and pushed them to be the best adults they could be.
"You are special, and you are uniquely made, and nobody else can do what you're supposed to do in this world. Nobody else. And if you don't do it, we won't have it."
[h/t Fox 5 Atlanta]
[image via Mercer Law School screengrab]
–
Follow Alberto Luperon on Twitter (@Alberto Luperon)
Have a tip we should know? [email protected]