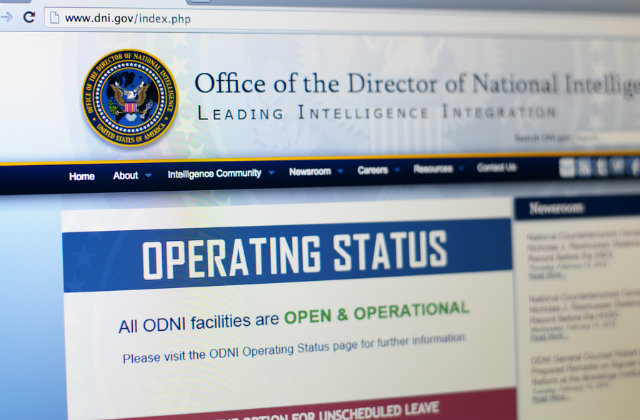 Dan Meyer, the official whose job it is to talk to intelligence community whistleblowers, isn't allowed to talk with whistleblowers, according to a Oct. 18 report from Foreign Policy. Eight sources told the outlet about problems at the Office of the Intelligence Community Inspector General. Reportedly, Meyer has no deputy or staff, isn't allowed to speak to whistleblowers, and the only duty he's scheduled for is the creation of an instructional pamphlet for whistleblowers.
Former Inspector General Chuck McCullough III retired in March, and sources said the office has fallen apart. Four people claimed that Acting Inspector General Wayne A. Stone spent most of his time at Harvard University, without access to classified info.
From the report:
Only recently has he been forced to return to Washington to perform his duties at least two days every two weeks. He has been told he most likely won't get the nomination for the permanent position.
Acting Deputy Inspector General Jeanette McMillian was responsible for "sidelining" Meyer, the report said.
McCullough, on the record, defended Meyer as a "consummate expert in whistleblower protection." Nonetheless, he said he knows nothing about the IG's happenings right now. Having left the agency, he's prohibited from talking with the office for a year.
Foreign Policy reached out for comment, but the Office of the Director of National Intelligence declined on the inspector general's behalf.
This reported power vacuum has left intel community whistleblowers with few places to go. Three sources and a nonpartisan watchdog said there are several whistleblower relationship complaints against Chris Sharpley, a watchdog for the CIA's Office of the Inspector General.
"Whether there are any complaints or investigations regarding Mr. Sharpley is not something we could confirm or comment on," CIA spokesman Ryan Trapani told Foreign Policy in an emailed statement. "What we can say is that Mr. Sharpley has had a sterling 5-year career at CIA and there have never been any findings of wrongdoing or misconduct of any sort by Mr. Sharpley during his tenure here."
[Image via Gil C and Shutterstock]
Have a tip we should know? [email protected]