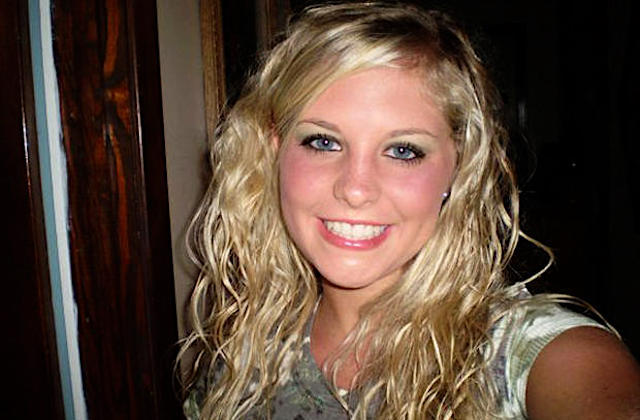 The first defendant accused of playing a role in the murder of 20-year-old Holly Bobo of Parsons, Tenn., goes to trial Monday morning. A grand jury indictment originally charged Zachary Adams with premeditated murder, murder in the perpetration of aggravated kidnapping, and aggravated rape.
He's one of six people arrested in connection with the disappearance and death of Holly Bobo. 
The jury was seated Saturday from an original group of 75 men and women. Eight women and seven men now round out the pool of fifteen who will hear the case. Thirteen members of the final pool are white; two are black. That group will be whittled down to twelve deliberating jurors once testimony and arguments are complete.
—–>  WATCH TRIAL IN THE PLAYER BELOW WHEN PROCEEDINGS BEGIN
Bobo, 20, disappeared at 7:30 a.m. on April 13, 2011. Her brother saw her entering the woods near her home with a man dressed in camouflage. Her brother assumed Bobo was with her boyfriend. However, he alerted the authorities when he found blood outside the house.
 After what has been called the most extensive search in Tennessee history, Bobo was never found.
 Nearly two and a half years later, on September 7, 2014, hunters looking for ginseng found a skull later identified as Bobo's some twenty miles from her home. No bones below her neck have ever been found, sources say.
 More than two and a half years again passed until the next major public development occurred. Authorities found a gun on Memorial Day Weekend 2017 which they have attempted to link to the Bobo case.  The weapon is reported to be an Arminius model HW5 .32-caliber gun. Adams' defense attorney has said that the gun is heavily rusted, cannot be tested for ballistics, is not in operating condition, and cannot even be linked to Adams. There is no DNA evidence and there is no blood on the weapon.
 Zachary Adams is not the only person accused in connection with Bobo's disappearance and death. John Dylan Adams, Jason Autry, Shayne Austin, and Jeff and Mark Pearcy were also arrested and accused of various levels of involvement.
 Prosecutors first charged Zachary Adams' brother, John Dylan Adams, with tampering with evidence. They later dropped that charge and replaced it with murder, kidnapping, and rape charges. John Dylan Adams has threatened to invoke the Fifth Amendment if prosecutors call him to testify against his brother. However, it was a confession made by John Dylan Adams which led prosecutors to make the other arrests. John Dylan Adams claimed he saw Bobo with his brother Zachary and friend Jason Autry after she was reported missing.  He also claimed to know that the men "had raped Bobo and videotaped it." (Other sources suggest the videotape showed Bobo tied up and crying.) Though other witnesses have claimed to have possibly seen part of the purported recording, investigators have never found it. John Dylan Adams now claims investigators coerced the confession.
 Jason Autry is likely to be the prosecution's key witness. Prosecutors granted him immunity and even abandoned their original theory of the case in order to pursue Autry's version of Bobo's death. Observers expect Autry to implicate the Adams brothers in the crime. Shayne Austin was on the telephone with Zachary Adams several times the day Bobo disappeared. He later committed suicide.
 Prosecutors charged Jeff and Mark Pearcy with being accessories after the fact and for destroying evidence. Those charges against at least one of the men, Mark, were later dropped. Another witness, Sandra King, claimed Jeff Pearcy showed her the video of Bobo tied up.
 Prosecutors have also reportedly given two other men, Victor Dinsmore and Michael Alexander, immunity in the proceedings. Neither Dinsmore nor Alexander have been charged with a crime or crimes.
 The case has been marred with sharp accusations of prosecutorial and judicial misconduct by Adams' defense attorney. She has argued that the judge should have disqualified himself for saying several of the defendants should simply seek deals from prosecutors and plead guilty. She has also accused prosecutors of hiding a recorded interview of a serial rapist who lived near Bobo around the time she disappeared.
The judge, C. Creed McGinley, was also recently charged for having a gun in the secure area of an airport. More than 100 people have been subpoenaed to testify. The jury is sequestered for the duration of the case. Jurors have no access to radio or television and will meet on Saturdays to hear the trial. The LawNewz Network will provide gavel-to-gavel live coverage of the case along with expert analysis in the player above.
Have a tip we should know? [email protected]
Aaron Keller - Deputy Editor-in-Chief