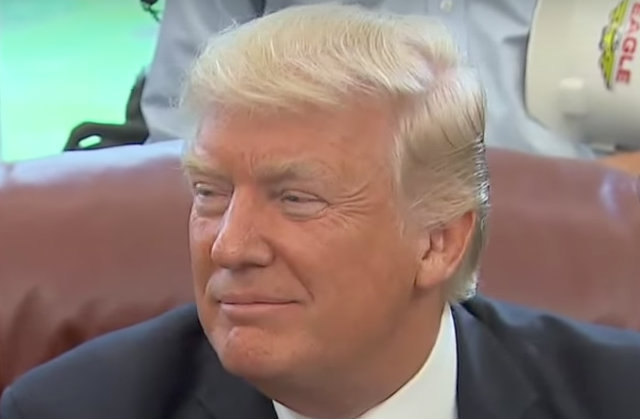 President Donald Trump complained once again on Saturday about negative coverage. This time, late night comedians caught flak.
Late Night host are dealing with the Democrats for their very "unfunny" & repetitive material, always anti-Trump! Should we get Equal Time?

— Donald J. Trump (@realDonaldTrump) October 7, 2017
More and more people are suggesting that Republicans (and me) should be given Equal Time on T.V. when you look at the one-sided coverage?

— Donald J. Trump (@realDonaldTrump) October 7, 2017
It's hard to describe most late night comedians as anything but left-of-center. Trump didn't name names, but hosts like Stephen Colbert, Seth Meyers and John Oliver have produced many segments and jokes that weren't exactly complementary of POTUS. More recently, ABC's Jimmy Kimmel, has gone all out against GOP policies on healthcare and gun control.
In Trump's Saturday tweet, repeatedly writes the term "Equal Time" in capital letters. This is an apparent reference to equal-time rule. But this specifically applies to political candidates, not subject matter. Ever since the Communications Act of 1934, publicly licensed broadcasters must give legally qualified candidates access to the same amount of airtime. Legit news coverage and news interviews are an exception, however. These shows, which have actually included late night comedies like The Tonight Show, don't have to worry about giving equal access to candidates.
The Fairness Doctrine, which is completely separate from the equal-time rule, may be applicable to Trump's criticisms. This policy from the Federal Communications Commission required broadcasters to air differing viewpoints on controversial topics, such as presidential policies. That's gone, however. The FCC all but outright eliminated the rule in 1987, and its text was formally removed in 2011 from the agency's books.
[Screengrab via ABC]
Have a tip we should know? [email protected]