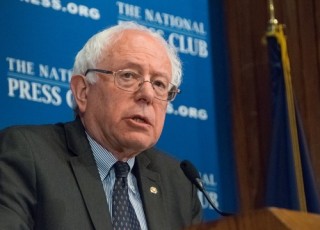 Among the many controversial comments that Democratic Presidential candidate Bernie Sanders made in his recent interview with the New York Daily News, his statements regarding the Israeli-Palestinian conflict perhaps drew some of the most heated response. Israeli Knesset member Michael Oren told the Times of Israel on Thursday that Sanders's words were "libelous." He even went so far as to compare it to the medieval blood libels leveled against Jews in Europe that falsely accused them of violent ritual practices.
"First of all, he should get his facts right. Secondly, he owes Israel an apology," Oren, the former Israeli ambassador to the U.S. said. "He accused us of a blood libel. He accused us of bombing hospitals. He accused us of killing 10,000 Palestinian civilians. Don't you think that merits an apology?" Oren was referring to a point in the interview when the Daily News editorial staff confronted Sanders about his belief that Israel used disproportionate force in response to Hamas terror attacks from Gaza in 2014.  Sanders said that he recalled over 10,000 Palestinians being killed in the Israeli operation, and that "[h]ospitals, I think, were bombed."
"Not only did he multiply by five the amount of casualties [in the 2014 Gaza war] and failed to distinguish between the Hamas fighters we eliminated and the civilians we inadvertently and regrettably killed. He said we bombed hospitals," Oren added. "Hamas is hiding beneath the hospital; we didn't bomb it." Oren does have a point. The Daily News even told Sanders that the casualties were closer to 2,300. Not only that, reports that summer were already showing that the real numbers were likely less than what Gaza was reporting. As far as bombing a hospital, the Israeli Defense Forces acknowledged targeting a Hamas command center that was based in Gaza's al-Wafa hospital, but they stated that they warned Gaza beforehand and told civilians to leave, according to the Times of Israel.
Oren also blasted Sanders for what he didn't say, which affects the context of the conversation. "He doesn't mention the fact that we pulled out of Gaza in order to give the Palestinians a chance to experiment with statehood, and they turned it into an experiment with terror. He doesn't mention any of that. That, to me, is libelous." But not all of his accusations against Sanders were accurate. He claimed that Sanders didn't "mention the fact that Hamas hides behind civilians." Sanders actually did bring that up, and acknowledged that it made Israeli defense difficult.
That last part is why "libelous" is perhaps too strong a word to use against Sanders who is himself a Jew who once lived in Israel and claims to have family there. He sympathizes with Israel's difficulty in protecting its citizen, but is concerned about violen even though when the Daily News asked what Israel should have done instead, he answered, "I don't quite think I'm qualified to make decisions." And as far as getting statistics wrong, that was most likely not an intentionally false statement, but just an example of Sanders perhaps not knowing enough about an issue.
Oren may be correct in believing that Sanders's viewpoint could be dangerous to Israel, but libelous? Well, defamation laws in the U.S. say that a statement has to be made to a third party, false, and damaging, which could all be true here. But when it comes to statements about public figures — and if it were possible for a country to sue for libel, I'd argue it would qualify as a public figure — there has to be actual malice, which in legalese means either knowledge that the information is false, or reckless disregard for whether it's false. Even if his false statements could influence a great many people and negatively impact Israel's reputation among Americans, there is no indication that Sanders knew that what he was saying was false, or recklessly disregarded whether his statements were false.
Nevertheless, Oren felt that while even if Sanders's words weren't libelous in the legal sense, they were false and damaging, which is enough for him to speak out. The former diplomat said that when a U.S. Presidential candidate accuses Israel of being ruthless, he feels the need to speak forcefully. But Oren hasn't only spoken against U.S. candidates who made statements concerning Jews. "When Trump said what he said about Muslims, I came out and condemned it." Likewise, he says "When Sanders comes out and libels my country, I am going to come out and say something."
[h/t Times of Israel, image via Albert H. Teich/Shutterstock]
Have a tip we should know? [email protected]