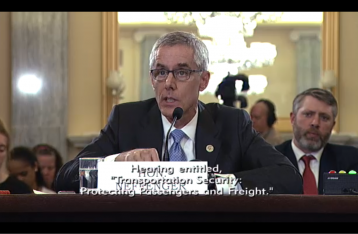 Senators on Capitol Hill reportedly reached a deal on Thursday to allow the TSA to take measures to improve airport security.  The announcement comes one day after TSA Administrator Robert Neffenger made a startling admission during a Senate hearing that only three airports in the United States regularly require employees to pass through security screenings prior to entering "secured" areas of the airport.
Neffenger's testimony is alarming in light of a recent reports that in 2015 Homeland Security had identified over 70 employees at nearly 40 airports across the United States who have been flagged for links to terrorism.  Through FOIA requests, media outlets were able to uncover the identities of 12 individuals with ties to terrorism — two are employed at Logan International Airport in Boston, four at Hartsfield-Jackson in Atlanta, and six at Seattle-Tacoma.
However, when asked to comment on that report, TSA spokesman Michael England said, "There is no evidence to support the suggestion by some that 73 DHS employees are on the U.S. government's consolidated terrorist watch list."
In perhaps an even more alarming incident, in 2014 federal investigators uncovered a massive gun smuggling operation at Hartsfield-Jackson Atlanta International Airport in which an airline employee was alleged to have helped load hundreds of guns on at least 20 flights between Atlanta and New York City.  When the arrests were announced, Brooklyn District Attorney Kenneth Thompson blamed the "egregious breech of security" on the fact that the employees were "not required to go through screening."
As a result of the smuggling operation, Hartsfield-Jackson did introduce additional security measures that required airport employees to go through security screening, making them only the third major airport in the United States to have such requirements in place.  The only other major U.S. airports to require mandatory employee screening are Miami and Orlando.
According to Neffenger, the TSA lacks the funding and possibly jurisdictional authority to implement nationwide mandatory security screenings for airport employees.  The deal reached in the Senate on Thursday is expected to address those issues, according to reports.  Furthermore, Neffenger promised lawmakers that he would provide an updated assessment of airport security risks, including issues related to employee security screenings, in a report by the end of the month.
Have a tip we should know? [email protected]