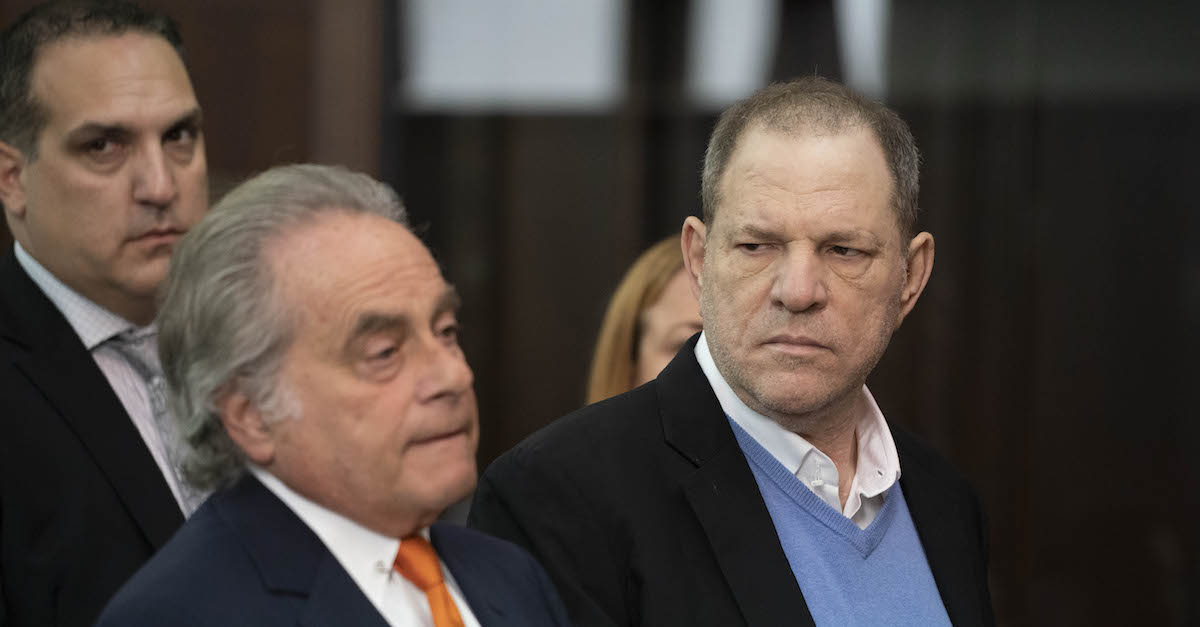 In a predictable outcome (but not for the reasons his attorneys are giving), accused rapist and disgraced movie mogul Harvey Weinstein will not be testifying before a grand jury in his New York criminal case.
According to Deadline, Weinstein's lawyer Benjamin Brafman said Wednesday that being "unfairly" denied access to "critical information" has resulted in not having enough time to prepare his client to testify.
"After being unfairly denied access to critical information about this case that was needed to defend him before the Grand Jury, Mr. Weinstein's attorneys decided that there was not sufficient time to properly prepare Mr. Weinstein," Brafman said. "The identities of the accusers and the specific charges were provided to Mr. Weinstein last Friday on the eve of the Memorial Day Weekend and a deadline for his appearance set for Wednesday, 2pm."
"Our request for a postponement of his appearance before the Grand Jury was denied," he added. The grand jury will decide whether he should be indicted.
That's certainly one reason not to testify. Another reason could be anything he says could be used against him. His attorneys may believe it's not worth the risk compared to the chance he would have in convincing jurors not to indict him, (indictments require a fairly low standard of proof compared to actual convictions).
The case is based on allegations from two women, one of whom is believed to be Lucia Evans. Evans alleged that Weinstein forced her to perform oral sex on him in 2004. The unidentified woman alleged that she was raped in a hotel room in 2013.
Weinstein has denied any and all accusations that nonconsensual sex occurred. Brafman has previously scoffed at the notion that the Manhattan DA will try for a Bill Cosby-style trial, with other accusers testifying.
Brafman said the accusations made by Evans and a second unidentified woman were "totally absurd." In Evans' case in particular he said the case would be "quickly discredited."
[Image via Steven Hirsch-Pool/Getty Images]
Have a tip we should know? [email protected]