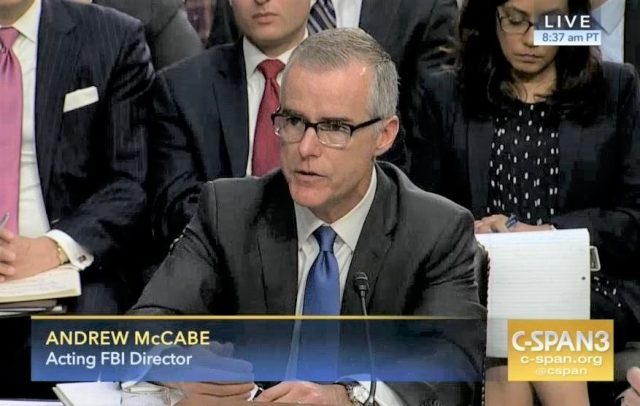 Acting FBI Director Andrew McCabe has been the target of criticism related to his wife Dr. Jill McCabe's ties to Virginia Democrats, including donations to her State Senate campaign from an organization tied to Governor Terry McAuliffe and the Virginia Democratic Party. McAuliffe is a known associate of Hillary Clinton, so Republicans have cried conflict of interest, since McCabe was involved in the investigation of Clinton's emails. Now, watchdog organization Judicial Watch has filed three different lawsuits seeking information regarding the McCabes and Jill's campaign.
All three lawsuits are based on FOIA requests that Judicial Watch filed in October 2016 that the DOJ has allegedly failed to effectively accommodate.
The cases are all Freedom of Information Act lawsuits seeking records on the McCabes. One asks for:
Any and all records of communication between FBI Deputy Director Andrew McCabe and other FBI or Department of Justice ("DOJ") officials regarding, concerning or relating to ethical issues concerning the involvement of Andrew McCabe and/or his wife, Dr. Jill McCabe, in political campaigns.
It also seeks records "related to ethical guidance concerning political activities provided to Deputy Director McCabe by FBI and/or DOJ officials or elements." The time span covers January 1, 2015 to the present.
The second complaint is over a FOIA request for records of communications between Andrew McCabe and any officials with the Democratic National Committee, the Virginia Democratic Party, and the office of the Governor of Virginia, including McAuliffe from March 1, 2015 to the present.
The third lawsuit deals with a request for forms and records related to Andrew McCabe's travel and calendar entries from March 1, 2015 to the present.
Judicial Watch has expressed concern that acting Director McCabe may have violated the Hatch Act, which prohibits FBI employees from engaging in political activity dealing with a party, a candidate, or a partisan political group.
LawNewz.com reached out to the Department of Justice but they declined to comment on the pending litigation.
"There are numerous questions about the ethics and judgement of the FBI's top leadership, particularly Acting FBI Director Andrew McCabe," Judicial Watch President Tom Fitton said in a statement. "These new lawsuits will help Americans 'watch the watchers' at the powerful FBI."
Note: This article has been updated with the DOJ's response to LawNewz's request for comment.
[Image via CSPAN3 screengrab]
Have a tip we should know? [email protected]