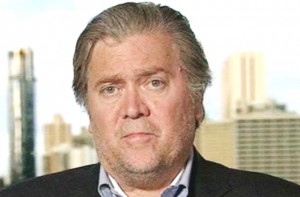 The Campaign Legal Center, a non-partisan Washington D.C. watchdog group, sent a letter to the Federal Election Commission alleging that the super PAC Make America Number 1 illegally funneled money to Steve Bannon for work he did as Donald Trump's campaign CEO. Bannon has since been named Chief Strategist to President-elect Trump. CLC filed a complaint with the Commission in October alleging illegal coordination, but they sent another letter on Friday to provide what they call additional "evidence."
"The evidence suggests a Mercer-backed super PAC secretly subsidized Steve Bannon's work for the Trump campaign by funneling $280,000 in payments to a firm described as a 'front' for Bannon," Brendan Fischer, associate counsel at the Campaign Legal Center, said in a statement obtained by LawNewz.com.
According to the letter, after Bannon joined the campaign, the super PAC paid $280,000 to "Glittering Steel LLC" which has the same mailing address as Bannon's California consulting firm.
"Notably, on the same day that CLC files it complaint alleging that Make America Number 1 had compensated Bannon by way of entities located at the same address as his Bannon Strategic Advisors Inc. consulting firm, paperwork was filed with the California Secretary of State changing the firm's registered address," the letter reads.
Federal law prohibits super PACs from coordinating closely with presidential campaigns. "The absence of prearrangement and coordination of an expenditure with the candidate or his agent not only undermines the value of the expenditure to the candidate, but also alleviates the danger that expenditures will be given as a quid pro quo for improper commitments from the candidate," the Supreme Court said in the 1976 opinion on Buckley v. Valeo. 
We've reached out to Trump's transition team, seeking comment from Bannon regarding the latest allegations.
Have a tip we should know? [email protected]
Rachel Stockman - Editor in Chief / On Air Host