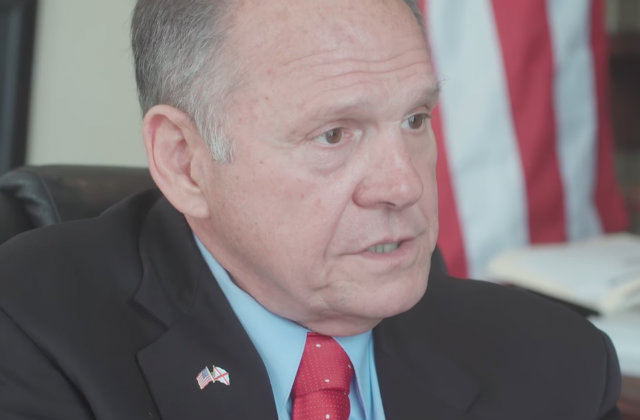 GOP senate candidate Roy Moore had a sexual encounter with a 14-year-old girl decades ago, according to a new Washington Post report. Now 53, Leigh Corfman said the judge was 32 at the time.
She told WaPo that Moore approached her and her Mom was outside a courtroom in Etowah County, Alabama in 1979. He offered to watch the teen while the mother, Nancy Wells, had to deal with a custody hearing.
"He said, 'Oh, you don't want her to go in there and hear all that. I'll stay out here with her,' " said Wells, now 71. "I thought, how nice for him to want to take care of my little girl."
According to Corfman, Moore chatted her up and asked for her phone number.
"He was charming and smiley," she said. This led to two incidents that disturbed Corfman. A few days later, he picked her up and brought her to his home, where he told her she was pretty, and he allegedly kissed her. The second, and last, visit at his house became more intense. Corfman said he disappeared into another room, and reappeared in only "tight white" underwear. She told WaPo he kissed her, removed her pants and shirt, groping her through her underwear, top and bottom. Corfman claimed he guided her hand to his underwear.
She pulled away, disturbed, and told him to bring her back home. He complied, she said.
The Alabama age of consent statutes say anyone at least 19-years-old would commit sexual abuse in the second degree by touching sexual or intimate body parts of a victim 12 to 16 years old. It is also illegal to bring a minor less than 16 into a home for the sake of trying to fondling them or having sex.
The age of consent in Alabama is and was 16.
Corfman didn't go to the cops about this. Three other women told WaPo that they had encounters with Moore. None of them described behavior beyond kissing. Their ages, at the time of these alleged incidents, ranged from 16 to 18. One woman, Gloria Thacker Deason, said he got her wine on their dates. She was 18. Alabama's drinking age at the time was 19.
Moore denied the allegations, calling it a leftie smear job.
"These allegations are completely false and are a desperate political attack by the National Democrat Party and the Washington Post on this campaign," Moore told the outlet in a written statement. In their own statement, his campaign said the allegations, if true, would have emerged in Moore's previous runs for office.
WaPo said that according to campaign reports, none of the women worked or gave money to Moore's Democratic candidate Doug Jones or his GOP primary opponent Luther Strange. Corfman told the outlet she voted for Donald Trump in 2016, Mitt Romney in 2012, and John McCain in 2008. All Republicans.
[Screengrab via The Guardian]
Have a tip we should know? [email protected]