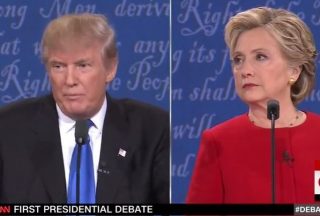 On Friday, federal Judge James S. Gwin handed out a wide-ranging, temporary restraining order over alleged voter intimidation tactics but he went one step further than the plaintiffs demanded. The Ohio Democratic Party was suing the local GOP allegedly for "conspiring to prevent minority voters from voting in the 2016 election."
He gave them most of what they wanted, but:
It is hereby ordered that, effective immediately and extending until 11:59 p.m., November 8, 2016, or until voting in the 2016 Presidential Election is complete, Defendants Trump, [Roger] Stone, and Stop the Steal—as well as their officers, agents, servants, and employees— and other individuals or groups, including groups associated with the Clinton for Presidency campaign, are restrained and enjoined from engaging in voter intimidation activity …
Yep, the judge included pro-Clinton groups in that restraining order.
Everyone is prohibited from 1) "hindering or delaying" voters from reaching or leaving polling places; 2) doing unauthorized "poll watching"; 3) harassing or otherwise bothering voters in polling places or a designated buffer zone; 4) telling voters or giving literature which states "that voter fraud is a crime, or describing the penalties under any Ohio or Federal statute for impermissibly casting a ballot, or training, organizing, or directing individuals to do the same"; 5) loitering in certain restricted areas without meaning to vote; 6) "Following, taking photos of, or otherwise recording voters or prospective voters, those assisting voters or prospective voters, or their vehicles at or around a polling place, or training, organizing, or directing others to do the same"; and 7) "Questioning, and training, organizing, or deputizing any persons to question voters" at any restricted areas under any purported "exit polling" or "citizen journalist" operations.
Also, the temporary restraining leaves out one of the defendants, the Ohio Republican Party. The decision to include pro-Clinton groups baffled election law expert Rick Hasen, especially since the actual allegations were pressed against the GOP.
Includes 4 page order in OH lawsuit. Very, very weird that it is TRO against Trump, Roger Stone, and *Clinton campaign* https://t.co/BqmsFRjC3R

— Rick Hasen (@rickhasen) November 4, 2016
To restrain someone, one must show a propensity to violate the order. @RichardMRe @WilliamBaude @LeahLitman https://t.co/AZzlJ1zbp4

— Rick Hasen (@rickhasen) November 4, 2016
On Monday, Democrats sued Trump, adviser Roger Stone and local Republican parties in Ohio and three other states over alleged voter intimidation sparked by the presidential candidate's speeches. The defendants deny evidence of wrongdoing.
Here's the full text of Friday's Ohio opinion, via Hasen.
Update – November 4, 5:35 p.m.: Added detail on the actual actions being restricted.
Update – November 5, 10:57 a.m.: The Trump Campaign plans to appeal.
JUST IN: Trump campaign will appeal district court order against voter intimidation-related actions to the 6th Circuit pic.twitter.com/BjPyNKdIFL

— Chris Geidner (@chrisgeidner) November 4, 2016
[Screengrab via CNN]
–
Follow Alberto on Twitter (@Alberto Luperon)
Have a tip we should know? [email protected]