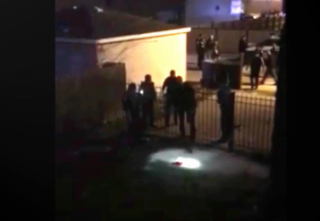 After chasing a teenage boy on foot, a Chicago police officer fired his gun, killing him as he attempted to jump over a fence, the Chicago Tribune reported.
Details surrounding the shooting, which took place on Monday, are a little sketchy. Police say an officer chased Pierre Loury, 16, after he fled from a car that was linked to a shooting earlier that day. Police scanner messages indicated that the car had been involved in a shooting a few miles away, half an hour before police stopped it. Law enforcement sources had a somewhat different story for the Chicago Tribune the next day, saying the car may not have been related to that shooting, but a different one.
When police tried to pull over the vehicle, Loury ran out, and while the chase ensued, the driver of the car escaped. First Deputy Superintendent John Escalante said that the officer fired at Loury after the teen turned and pointed a gun. Escalante said that a semi-automatic weapon was found at the scene. A witness said she saw a young boy trying to scale a fence, but she did not see him holding a gun.
The officer involved in the shooting has been placed on paid desk duty for 30 days, as per department policy, Escalante said.
Aftermath of the shooting was captured on the following video. Warning: graphic content.

This is the fifth shooting in Chicago this year involving police, and the third to result in death. The night following Loury's death, community members marched in protest.
[h/t Chicago Tribune, image via screengrab]
Have a tip we should know? [email protected]