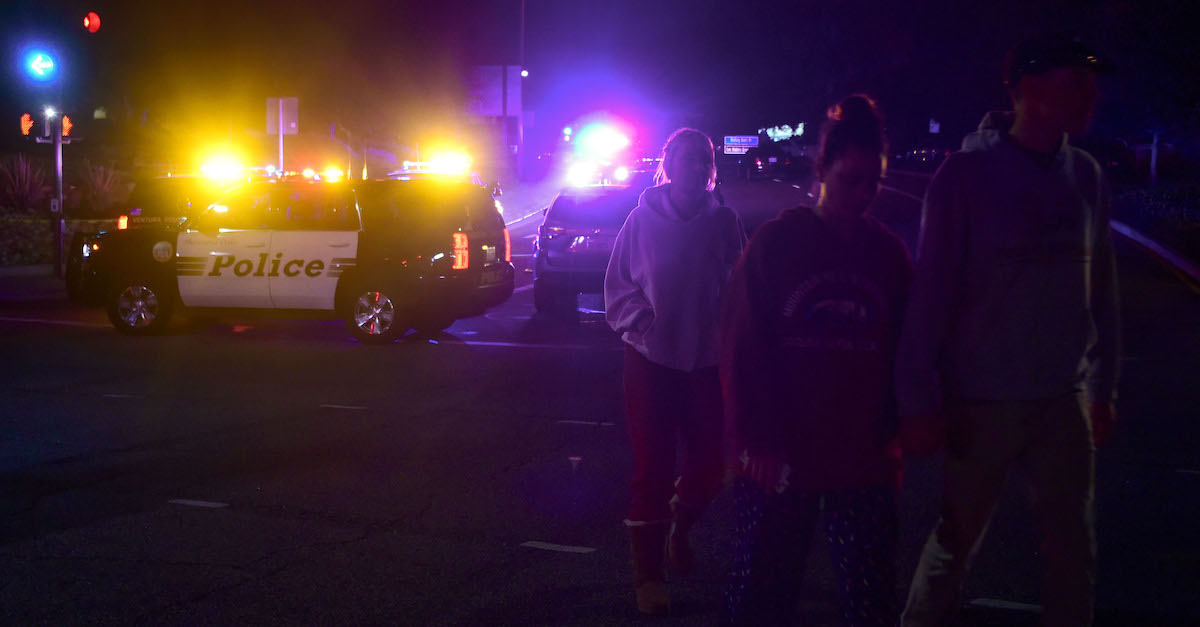 Each victim of the mass shooting in Thousand Oaks, California on Wednesday has been identified. A gunman took the lives of 12 people at the Borderline Bar & Grill on Wednesday night before possibly committing suicide, say Ventura County sheriff's authorities.
Sean Adler, who was 48, according to The Los Angeles Times.


Sean Adler, 48, opened a coffee shop called Rivalry Roasters in Simi Valley last year. As he built his dream, he kept his job as a bouncer at Borderline to support his family. He was working there last night. He leaves behind a wife and two sons. https://t.co/xiiaaxdzxW pic.twitter.com/JmHgfDdaaL

— Los Angeles Times (@latimes) November 9, 2018

Cody Coffman, 22. His father Jason Coffman identified him Thursday, according to ABC.
Blake Dingman, 21.


Blake Dingman, 21
"Words can't describe the pain I'm feeling. At 12 this morning, I was informed that my amazing brother was taken down by the shooter. Blake, I love you so much and I miss you more than you can imagine." wrote Aidan Dingman, Blake's younger brother. #thousandoaks pic.twitter.com/IxFUwQQo7E

— Katie Couric (@katiecouric) November 9, 2018

Jake Dunham, 21. He was friends with Dingman.


Jake Dunham, 21
Jake was good friends with Blake Dingman. His father Ken was trying to reach him when the news broke; "I keep calling but there's no answer. It just keeps ringing out. And he always answers his phone." #thousandoaks #remembertheirnames #restinpeace pic.twitter.com/5RDmVY6UVy

— Katie Couric (@katiecouric) November 9, 2018

Alaina Housley, a niece of actress Tamara Mowry-Housley and former Fox News correspondent Adam Housley, was confirmed dead by her family. "Our hearts are broken," the couple said in a statement to USA Today.
Dan Manrique, who used to serve with the U.S. Marines.


We are heartbroken to confirm that Dan Manrique, Pacific Regional PM and Marine Corps veteran, was one of the victims of the Borderline shooting. We are aware that other members of our Team RWB family were directly impacted by the events. We will provide updates as we learn more. pic.twitter.com/lXVQWVx6NV

— Team RWB (@TeamRWB) November 8, 2018

23-year-old Justin Meek, according to his alma mater of California Lutheran University.
Mark Meza, 20, was a busboy the restaurant.
20-year-old Kristina Morisette.


Kristina Morisette, 20, was energetic and talkative. Her parents said that her friends were at the center of her life. The youngest of three, she worked at Borderline Bar & Grill's front desk. She had just bought her first car with the money she had saved. https://t.co/xiiaaxdzxW pic.twitter.com/xZsBX7SSVO

— Los Angeles Times (@latimes) November 9, 2018

Telemachus Orfanos died at the shooting, his mother told ABC7.
Authorities previously announced the deaths of suspected 28-year-old shooter Ian Long, and Sgt. Ron Helus, a Ventura County Sheriff's officer who responded to the scene.
Officials says the gunman opened fire at the Borderline Bar & Grill at about 11:20 p.m. Wednesday night. The restaurant was reportedly popular with local college students.
Ventura County Sheriff Geoff Dean told reporters that Long used a Glock 21 with an extended magazine. The gun was legally purchased and the extended magazine was illegal. It's not clear at this time how many rounds the magazine held. The suspect was found dead in the bar, the sheriff said according to KABC. It is believed that the gunman committed suicide. The motive behind the mass shooting remains unknown, and the investigation is pending.
Bystander Matt Wennerstrom told KABC that he broke a window with a bar stool to escape the shooting.
"We probably pushed 30 or 35 people through that window," he said.
Helus was scheduled to retire in 2019.
"Ron was a hardworking, dedicated sheriff's sergeant," Dean told reporters. "He was totally committed. He gave his all, and tonight as I told his wife, he died a hero because he went into save lives, to save other
"He died a hero. He went in to save lives, to save other people."

Ventura County Sheriff Geoff Dean honors sheriff's Sgt. Ron Helus who died after the Southern California shooting #Borderline pic.twitter.com/8XhShrgAGe

— TicToc by Bloomberg (@tictoc) November 8, 2018

Dean was set to retire Friday.
The sheriff confirmed that Long served in the U.S. Marine Corps. A female neighbor told ABC6 that he suffered from PTSD.
"He wouldn't get help," said neighbor Richard Berge.
Dean told reporters that the sheriff's office was in contact with Long over the years. They were called to his home in April, and he was behaving "irate and irrationally." He could not confirm if the shooter suffered from PTSD.
Note – 11/09/2018: This article has been updated the names of each victim.
[Image via Frederic J. Brown/AFP/Getty Images]
Have a tip we should know? [email protected]