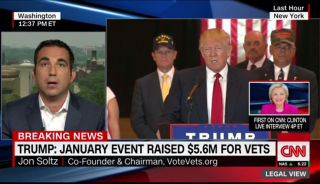 New tax documents obtained by OpenSecrets Blog suggest that one of the oldest, most politically active nonprofits in the country, VoteVets Action Fund, devoted most of its activities in 2014 to influencing that year's midterms.
Vote Vets Action Fund — which last week attacked the presumptive GOP nominee, Donald Trump, as a "cheap fraud" — is currently the highest spending liberal nonprofit active in federal elections, a perch it is accustomed to holding. Fueled largely by social welfare organizations aligned with Democrats and millions of dollars given by unions, VoteVets — with just two employees and no volunteers — has spent more on elections since its founding in 2006 than the combined spending of much more prominent politically active groups on the left, like NARAL Pro-Choice America and the Sierra Club, according to reports filed with the Federal Election Commission.
Electioneering as social welfare
The new tax documents show that between July 2014 and and June 2015, VoteVets spent nearly $7.6 million overall. During that same period, VoteVets' filings with the FEC indicate it spent more than $3.6 million supporting Democratic candidates or opposing Republicans.
Social welfare organizations like VoteVets are not supposed to be primarily political, though neither the IRS nor the FEC has shown an appetite for policing them. That, combined with the fact that they don't have to disclose who their donors are, has made 501(c) groups — also known as "dark money" outfits — attractive vehicles for contributors with a strong desire to influence politics but just as powerful an impetus to remain in the shadows. Political spending by these organizations reached new heights in 2014's congressional races and is on track to break new records in 2016.
The vast majority of dark money is spent by GOP-aligned groups — more than 72 percent of the 501(c) groups reporting activity to the FEC in 2014 were conservative, and in the last presidential election cycle, that total was more than 86 percent — but Democrats also have stalwarts in this category that provide them with reliable support in most election cycles. VoteVets is one such group.
In the last five election cycles, VoteVets has spent more than $12 million, including the more than $600,000 it has reported spending so far in the 2016 cycle supporting Rep. Tammy Duckworth (D-Ill.), who's running for Senate. That's a total that is dwarfed by groups on the right like Crossroads GPS, whose spending is measured in the hundreds of millions, but it puts VoteVets among the biggest all-time spenders on the left.
VoteVets newest tax return displays all of the main hallmarks of a political organization using its 501(c) status as a way to avoid donor disclosure. By far the largest outlays it reports were related to political activity.
More than $2 million, the group says, went towards "independent expenditures" communications that explicitly advocate for or against a candidate for office. Such ads are generally considered unambiguously political for tax purposes, meaning that a 501(c)(4) organization like VoteVets can't claim them as a part of their tax-exempt activity.
That $2 million tracks pretty closely with the total VoteVets reported to the FEC. But it also reported another $1.6 million in "electioneering communications" to the agency. These are "issue ads" run close to an election that mention a candidate without explicitly calling on viewers to vote for or against that person. Often these ads, like this one, are meant to boost a candidate, and some of VoteVets "issue ads" went so far as asking "who will bring fresh leadership to Congress" and contrasting the desired candidate with his or her opponent.
Together, the $3.6 million VoteVets spent on these politically charged ads is considerably more than the $3 million VoteVets told the IRS it spent on political expenditures and puts the group very close to breaking the de facto 50 percent limit on political spending by 501(c)(4) groups.
And evidence suggests that VoteVets' political activity goes beyond the specific expenditures reported to the FEC. In the section of its tax return where it lists payments to its highest paid outside contractors, four of the five companies listed — Waterfront Strategies, Buying Time LLC, Sway and Prism Communications — are the same political media firms VoteVets used for the political ads it reported to the FEC. Payments to these four firms came to more than $6.5 million, or 86 percent of Vote Vets overall expenditures.
VoteVets representatives have not responded to questions from OpenSecrets Blog about the nature of those payments.
No single big donors, but a lot of big labor money
Unlike many other politically nonprofits, none of the money fueling VoteVets in 2014 came from donors giving seven-figure checks. In fact, the group has received just one million-dollar contribution since 2010, the year when it brought in more than 82 percent of its $10.8 million haul from just three large donors. Some of those million-plus contributions, at the time, came from other dark money nonprofits, like the Alliance for Climate Protection and Partnership Action Fund, both social welfare organizations that support liberal policies.
Even as VoteVets' large contributions have tapered off, it appears that most of its donors are  liberal nonprofits or unions, many of which are involved in some aspect of electoral persuasion. One of its largest known donors over the last few years has been America Votes, another social welfare organization that is the self-described "coordination hub of the progressive community" and has deep ties to liberal political operatives. It has given $775,000 to Vote Vets since 2011, including $50,000 in 2014.
Vote Vets also provided $50,000 to the (c)(4) arm of American Bridge 21st Century, a group now run by pro-Clinton operative David Brock that specializes in churning out opposition research on Republican candidates.
VoteVets is also a favorite of environmental and union groups. It received $1.7 from the Sierra Club and the NRDC Action Fund in its banner year of 2010, and even in recent years its ads have continued to have an environmental theme, often focusing on mining or ethanol standards — which, in Iowa, were used to lay the groundwork for Sen. Bruce Braley's (D-Iowa) failed re-election battle.
But while no single donor appears to have furnished VoteVets with seven-figure-plus checks lately, it has been on the receiving end of millions in union funds over the years — including more than $2 million in 2013 and 2014 alone. According to Department of Labor data, six different unions fueled VoteVets in recent years. Those contributions from labor groups like the United Brotherhood of Carpenters and the AFL-CIO account for nearly a fifth of VoteVets' revenue over two years, and — giving lie to the idea that VoteVets is meant to be anything but a political entity — almost all of the unions described the purpose of the contributions as "political activities."
Robert Maguire is the outside spending and PACs researcher at opensecrets.org, a non-partisan nonprofit organization which tracks money in U.S. politics.