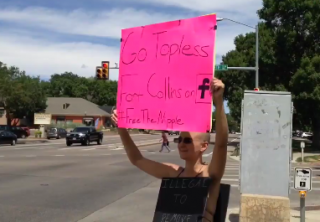 Two women are taking a Colorado city to federal court over a law prohibiting women from going topless in public. Brittiany Hoagland and Samantha Six, members of the Free the Nipple movement, claim that the Fort Collins city ordinance violates their First Amendment right to free speech, and discriminates against women in violation of the equal protection clause of the Fourteenth Amendment. The current law allows exceptions for breastfeeding, medical emergencies, and places like locker rooms where nudity would be expected. The complaint refers to the ordinance as "one of the most restrictive public nudity ordinances in the nation," and says that 30 states currently allow women to go topless in public.
Hoagland had previously campaigned against the ordinance through social media as well as street demonstrations, but with no change in the law thus far, she decided to go to court. Her attorney, David Lane, thinks they have a good chance. "My clients believe that any statute that begins 'women are prohibited from' is per se unconstitutional," he said to the Coloradoan. "I would tend to agree with that."
Hoagland and Six are seeking a declaration that the ordinance is unconstitutional, and an injunction against enforcing it.
"I think the City Council thoughtfully addressed the topic … and there is strong support in the community for where we are at this time," Mayor Wade Troxell said, according to The Detroit Free Press.
Have a tip we should know? [email protected]