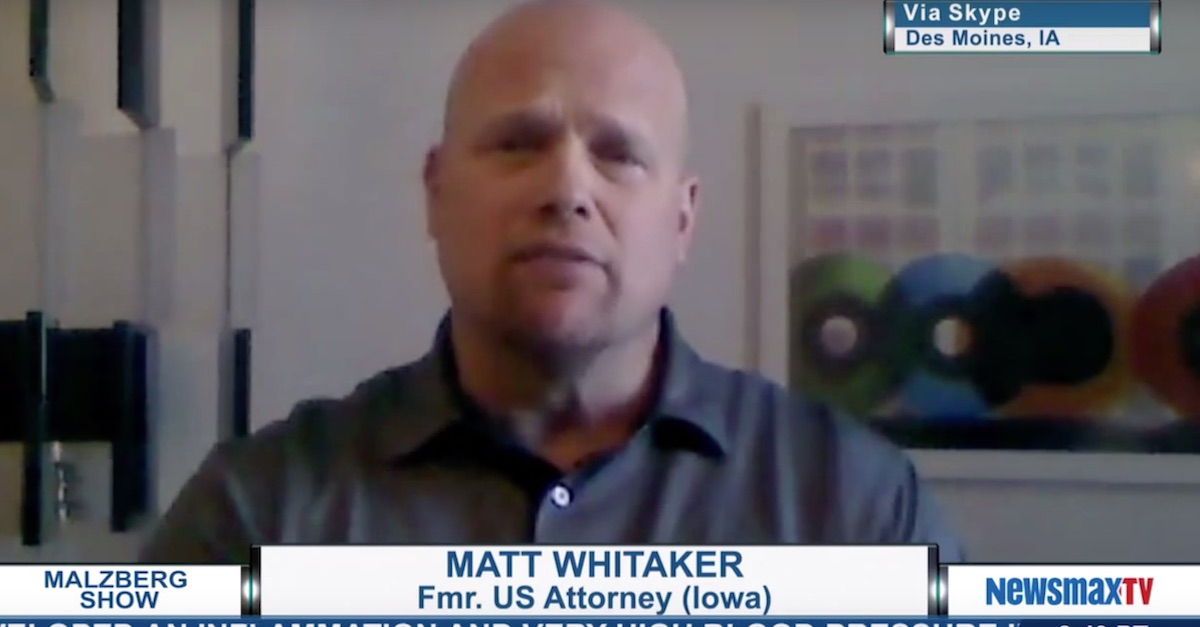 Acting Attorney General Matthew Whitaker used to work as a paid advisory board member for a Florida-based company that scammed U.S. military veterans out of their life savings. And now, veterans are incensed at Whitaker's recent promotion.
According to the Guardian, a review of relevant court filings and interviews with the company's victims showed that several veterans lost tens of thousands of dollars in the the scam by World Patent Marketing (WPM). The report explains:
Several veterans, two of them with disabilities, said they lost tens of thousands of dollars in the WPM scam, having been enticed into paying for patenting and licensing services by the impressive credentials of Whitaker and his fellow advisers. None said they dealt with Whitaker directly.
VoteVets, a political advocacy group representing some 500,000 veterans and their families, highlighted the Guardian's report via Twitter:
Donald Trump's new acting attorney general, Matthew Whitaker, was involved in a company that scammed US military veterans out of their life savings. https://t.co/ZsR206sEar

— VoteVets (@votevets) November 9, 2018
Representative Anthony Brown (D-MA), a former U.S. Army colonel who is affiliated with VoteVets, condemned Whitaker in response.
"Forget conflicts of interest — this represents a crisis of character," Brown wrote. "Mr. Whitaker belongs nowhere near a position in the federal government, let alone leading the Department of Justice."
Melvin Kiaaina is a disabled U.S. Army paratrooper. He explained WPM's impact on his life in a federal court filing from last year:
World Patent Marketing has devastated me emotionally, mentally and financially…I received nothing for the $14,085 I paid to the company, other than a bad drawing and a logo that my grandson could have made.
Navy veteran Ryan Masti said that WPM bragged about their connections to Whitaker when making their pitches  to potential clients. Masti told a federal court that he lost $75,000 after paying WMP to develop and promote a social network geared toward people with disabilities. Instead, he says all he received was a press release, a logo and a website template–all of which could be easily obtained online for free or purchased for hundreds of dollars.
"I spent the money on a dream to help people," Masti told the Guardian. "And I lost everything."
WPM actively courted veterans as clientele during its brief time in existence.
"Not only do we honor the veterans and soldiers of our armed forces but we are also celebrating what they are protecting – the American Dream," a Veteran's Day statement from WPM claimed in 2014. "The American Dream belongs to everybody. It's a human dream and if you understand and work very hard, it is possible to achieve."
Bill Flanagan, then the vice president of public relations for WPM said, "Veteran's Day has more meaning to World Patent Marketing and its thousands of clients then [sic] most people understand."
Law&Crime previously reported on WMP's liability with the Federal Trade Commission in a profile on Whitaker. Recently, WPM was ordered to pay $26 million in restitution over the scam. Additional reporting by Law&Crime noted that the FBI is currently still investigating Whitaker's former company.
Notably, the FBI's criminal investigation into WPM continues even as Whitaker is currently in charge of the FBI because it falls under the purview of the Department of Justice. Experts insist that Whitaker will have to recuse himself from that ongoing investigation.
In a statement, the Department of Justice claimed that Whitaker was unaware of the company's fraudulent activity.
[image via screengrab/YouTube]
Follow Colin Kalmbacher on Twitter: @colinkalmbacher
Have a tip we should know? [email protected]