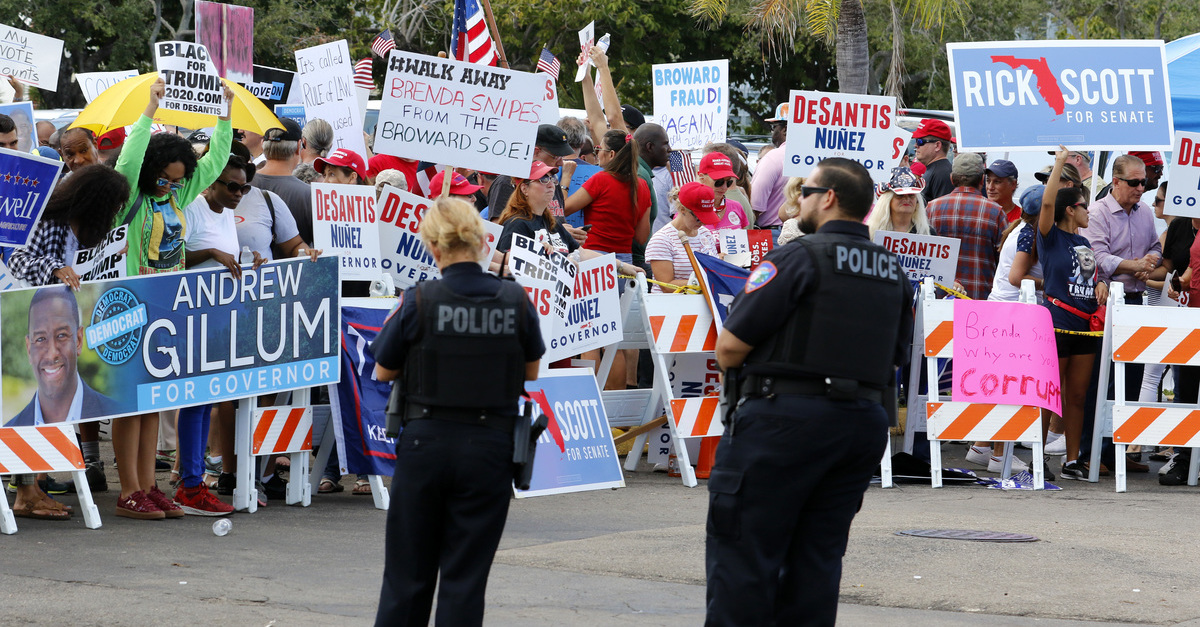 The State of Florida has found no evidence of fraud or criminal activity in Broward County's ongoing efforts to tally the votes cast during this year's midterm elections.
According to the Miami Herald, election monitors dispatched by the Florida Department of Elections dismissed the conspiracy theory being promoted by Florida Governor Rick Scott and President Donald Trump as well as several other congressional Republicans and conservative commentators.
Sarah Revell, a spokesperson for the Florida Department of Elections (DOE), told the Herald on Saturday morning that allegations of fraud concerning the vote count were currently unfounded.
"Our staff has seen no evidence of criminal activity at this time," she said.
The determination–and who it comes from–is notable because of the highly partisan atmosphere and accusations at play in Florida's razor-edge Senate race where Scott leads by an ever-decreasing 15,000 or so votes. Florida's DOE operates directly under the authority of Florida's Republican Secretary of State, Ken Detzner.
Perhaps even more telling is the timeline.
Since November 6, at least, two DOE staffers have been stationed and present in Broward County in order to oversee the November 7 election and "ensure that all laws are followed," the Herald reports. Those staffers repeatedly visited polling stations in the county as part of their ongoing efforts.
The DOE's before-the-election oversight plan was announced in May of this year after Broward Supervisor of Elections Brenda Snipes–herself a GOP appointee–was found to have violated the law when she ordered the premature destruction of ballots during a highly contested 2016 Democratic Party primary race.
Reveals told the Herald that her agency's staff have remained in Broward County through the election and ongoing political and legal drama.
In recent court filings and media appearances, Scott and his attorneys have alleged criminal fraud–up to and including the fabrication of votes–after Broward's typically glacial pace of counting ballots severely cut into Scott's lead against incumbent Democratic Senator Bill Nelson.
Initially Scott requested a formal investigation during a Thursday press conference outside the governor's mansion. He claimed without evidence that "liberals" were trying to steal the election because votes were being counted slowly.
During a later appearance on Fox News, Scott said:
We don't know how many more votes they're going to come up with. But it sure appears they're going to keep finding as many votes as it takes to try and win this election.
After Scott made those evidence-free assertions, the conspiracy theory gathered steam when it was promoted on Twitter by President Trump. On Friday, the president tweeted:
Rick Scott was up by 50,000+ votes on Election Day, now they "found" many votes and he is only up 15,000 votes. "The Broward Effect." How come they never find Republican votes?
Rick Scott was up by 50,000+ votes on Election Day, now they "found" many votes and he is only up 15,000 votes. "The Broward Effect." How come they never find Republican votes?

— Donald J. Trump (@realDonaldTrump) November 9, 2018
To be clear: several thousand votes remain uncounted in Florida for various reasons–including that many were simply not received by the 7 pm Election Day deadline. It's likely that many of those currently-uncounted votes will never be counted at all because of how Florida election law works. To date, however, there is no evidence that any votes in Florida have been fabricated.
Aside from allegations of fraud, the Broward County elections division is plagued by accusations of incompetences and mismanagement. And, as Law&Crime previously reported, Snipes was dinged by a Florida judge for violating the Sunshine State's public access laws–though this decision was not related to Scott's allegations of fraud.
[image via Joe Skipper/Getty Images]
Follow Colin Kalmbacher on Twitter: @colinkalmbacher
Have a tip we should know? [email protected]