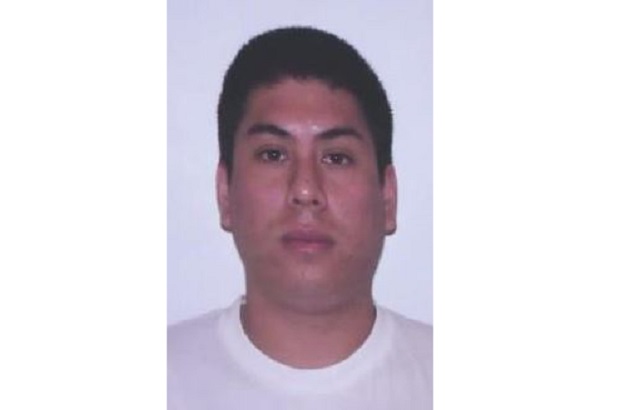 LOS ANGELES (AP) — Police Chief Charlie Beck on Thursday arrested a veteran Los Angeles police officer for allegedly having sex with a 15-year-old cadet who is suspected of joyriding in stolen patrol cars.
The chief personally handcuffed Officer Robert Cain at the 77th Street Division.
"I think it's important to send a message," the chief said at a news conference, saying Cain's actions were "despicable."
Cain, 31, was booked on suspicion of having unlawful sex with a minor. It was unclear if he had an attorney.
Cain, a 10-year veteran, was the 77th Street Division's equipment room operator and was involved in checking out police cars and other items, Beck said.
"It's believed that he had knowledge of and has been involved in the unlawful use of police equipment, including cars," Beck said.
Cain had no "significant history" of disciplinary actions or use-of-force complaints, the chief said.
The teen had been a cadet for three months. Text messages on her cellphone led investigators to Cain, Beck said.
So far, it doesn't appear that anybody else in the cadet program or other police officers knew of the relationship, which took place outside of the station, but the investigation continued, Beck said.
The cadet program is open to 14- to 21-year-olds and provides free training in police work, LAPD values and physical fitness. About 2,300 youths are enrolled. Cadets can perform limited duties such as traffic and crowd control at public events but they are not sworn police officers and have no official authority.
The program has been under scrutiny since cadets last week led officers on wild pursuits around the city in stolen police cars that ended with two crashing. Investigators said they used a vacationing sergeant's name to sign out the cars along with stun guns and radios.
Four other cadets — including the girl — were later arrested for allegedly riding along.
Beck has said some cadets made homemade police uniforms, impersonated police officers and made traffic stops but none of the drivers they pulled over were cited, handcuffed or had force used on them.
The stolen vehicles were taken from the 77th Street Division and the Central Division.
Beck suspended cadet programs at both divisions.
No other sworn officers or other cadets have been implicated in the cadet program scandal but an investigation continues and top detectives have been assigned, including some who worked on the infamous "Grim Sleeper" serial murder case, Beck said.
"Obviously this is not the Police Department that I want to lead," the chief said.
Allegations of sexual misconduct have turned into a full-blown scandal for the Oakland Police Department, located about 300 miles up the coast in the San Francisco Bay Area.
On Wednesday, a court-appointed investigator said city officials mishandled and downplayed allegations by a teenager that officers sexually abused her while she worked as an underage prostitute. Earlier this month, the city agreed to pay the teen nearly $1 million to settle her claims. She is pursuing similar cases against five other Bay Area law enforcement agencies.
This article was written by Robert Jablon of the AP.
Have a tip we should know? [email protected]