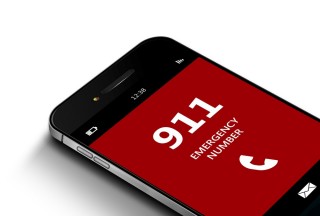 On Monday, The Wall Street Journal published a report about a crisis you probably didn't know existed: phone companies dodging the 911 fees that they're required by law to charge you each month. Apparently, when bidding for big business contracts, the telecoms undercut each other by lowering or removing the fees. A number of localities have sued the various phone companies for the underpayment, which keeps 911 call centers from being able to upgrade.
LawNewz.com has obtained the complaint from one of the lawsuits, Delaware County v. Verizon Pennsylvania et al, which was filed last year. It points out that, for example, the call centers "now face even greater financial pressure" thanks to the FCC mandating that they be able to accept text messages. According to the complaint, the underpayment amounts to about $6.9 million annually in the county, which led to them going more than $20 million over budget in the previous three years. According to a chart in the complaint, Verizon was not charging 911 fees for a whopping 48% of the over 240,000 lines they're estimated to have running, while some smaller telcos are even listed at paying 911 fees for zero lines.
Another lawsuit cited in the Delaware County complaint is Hamilton County Emergency Communications District v. Bellsouth Telecommunications, LLC, filed in Tennessee Eastern District Court all the way back in November of 2011. In that case (PDF), while the same basic idea was at issue (Bell South not charging/paying 911 fees), specific examples were given: Hamilton County's own November 16, 2010 bill had zero 911 charges to a business account that covered almost 60 different phone lines. while the August 16, 2011 bill had charges equivalent to the amount due for just 22 lines.
Judge Curtis L. Collier granted Bell South's motion to throw out the case back in January. In his opinion, he wrote that, among other things, "the actual beneficiary of the statute is the public — that is, the individuals who receive 911 service from the service suppliers," while the plaintiffs have a "functional" role that makes it "not an 'intended beneficiary'" of the 911 fee law. The ruling was appealed, with Hamilton County submitting a whopping 246 page brief (Bell South's was about a third of the length). Oral arguments will be heard on September 14th.
Cobb and Gannett Counties in Georgia sued various telcos last year (PDF), accusing them of not collecting the proper 911 fees on VOIP (voice over internet protocol) lines, and that case is still outstanding as well. In the telcos' motion to dismiss, they emphasize that "the 911 Act is clear that the subscriber, and only the subscriber, is liable for unpaid 911 charges." Those motions are still pending.
Have a tip we should know? [email protected]