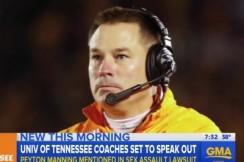 Coaches at the University of Tennessee are ready to speak against a federal lawsuit, which says the school ignored alleged sexual assaults by student-athletes. 16 head coaches are scheduled to hold a joint press conference on Tuesday at 10 a.m., EST. Eight unidentified women filed the suit, announced last week. The number was originally six, but two more were recently added.
The coaches are expected to attack the suit.
"No, we worked very hard to build our culture," said Butch Jones to reporters on Saturday. He's head coach of the school's football team. "We'll continue to defend it."
Peyton Manning, who just won the Super Bowl with the Denver Broncos, isn't a defendant in a lawsuit, but a 1996 incident is mentioned. Then a student-athlete at UT, he allegedly rubbed his bare genitals and butt on a trainer, Jamie Ann Naughright, during an examination. The resulting lawsuit against the school was later settled out of court. Manning defended himself later in a 2000 autobiography, saying he was just mooning a teammate.
The University of Tennessee argues the sexual assault claims were handled appropriately.
[h/t Good Morning America]
[image of Jones via Good Morning America screengrab]
Update — Feb. 23, 03:16 p.m. EST: "It's not who we are," Jones said at the press conference. "We have great players in our football program. We have a very good culture in place. That's why I say we're going to defend our culture."
Coaches of the women's teams, like basketball coach Holly Warlick, said the university did great work.
"It's amazing to me to see the support of our female athletes," she said. "To think the university is not treating women fairly, it's truly not true."
–
Follow Alberto Luperon on Twitter (@Alberto Luperon)
Have a tip we should know? [email protected]