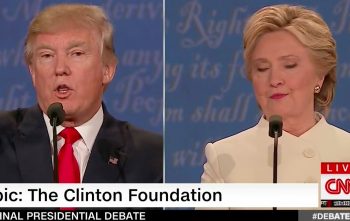 During tonight's debate, things got heated when matters turned to both the Clinton and Trump Foundations. After Trump attacked Clinton's fundraising, moderator Chris Wallace turned the tables on Donald Trump and asked about the way the Trump Foundation handles money.
"Wasn't some of the money used to settle some of your lawsuits?" Wallace asked.
"No, we put up the American flag," he replied, "That's it. We put up the American Flag in Palm Beach."
"Wasn't their a penalty imposed by Palm Beach County and the money came from your foundation?"
However, whether Trump wants to admit it or not,Trump did reportedly use Foundation money to settle his legal matters. According to a September report in the The Washington Post, more than a quarter of a million dollars was taken from the charity to fund settlements involving Trump's for-profit entities.
WATCH BELOW:

One involved Trump's Mar-a-Lago club, which racked up a staggering $120,000 in fines over the size of a flag pole. The town of Palm Beach, Florida agreed to drop the fines if the club gave $100,000 to a veterans' charity. Instead of the club paying it, Trump allegedly had his foundation foot the bill.
In addition, A New York golf course owned by Trump settled a lawsuit by making a donation to plaintiff's charity of choice. But the Trump Foundation apparently ended up paying the $158,000 instead of the golf course.
Now, at first glance this may appear okay, because the money was going from a charitable foundation to different charities. However, the money was reportedly supposed to come from Trump's businesses, which he owns, not from the foundation bearing his name, which gets most of its funding from outside donors.
While Trump is president of the Trump Foundation, the money isn't all his.  In fact, after 2006, most of the money reportedly came from other benefactors.
As we first reported in September, laws against self-dealing forbid non-profit leaders from using the organization's funds for personal or business matters. The IRS's website gives examples of self-dealing, including "transfer to, or use by or for the benefit of, a disqualified person of the income or assets of a private foundation." The term "disqualified person" includes all substantial contributors and managers of a foundation, anyone who owns more than 20 percent of a corporation's voting power, a family member of any of those people, as well as a corporation where 35 percent of the voting power is controlled by the foundation's manager or substantial contributor.
If the IRS finds that Trump and the Trump Foundation engaged in self-dealing, they could impose penalties in the form of excise taxes.
Ronn Blitzer contributed to this report. 
Have a tip we should know? [email protected]
Rachel Stockman - Editor in Chief / On Air Host