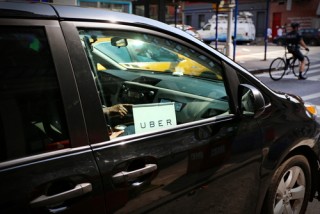 District attorneys in Los Angeles and San Francisco filed a lawsuit against Uber in December, accusing them of being less than honest about how thoroughly they conduct background checks on drivers. Prosecutors from both cities announced on Thursday that Uber agreed to a $25 million settlement, Reuters reported.
Taxi drivers have to undergo fingerprint checks, but Uber drivers do not, according to SFGate.com. Uber had claimed that their background checks were the industry's toughest. As it turned out, San Francisco DA George Gascón uncovered 25 Uber drivers with criminal history, including identity thieves, burglars, kidnappers, sex offenders, and a murderer.
According to the settlement, Uber will have to pay $10 million within 60 days, and if they comply with terms of the agreement for two years, the remaining $15 million will be waived. Uber will not be allowed to make false statements about their background checks, their fare calculations must meet state standards, and they will be prohibited from charging airport "tolls." The complaint had alleged that Uber drivers worked at airports without authorization, and charged special fees to passengers going there.
Uber said in a statement, "We're glad to put this case behind us and excited to redouble our efforts serving riders and drivers across the state of California."
"It sends a clear message to all businesses, and to startups in particular," Gascón said. "Laws designed to protect consumers cannot be ignored."
[h/t Yahoo News, image via MikeDotta/Shutterstock]
Have a tip we should know? [email protected]