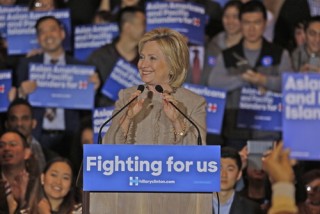 The Romanian hacker, "Guccifer," who first exposed Hillary Clinton's use of a private email server, was extradited to the United States in March.  Marcel Lehel Lazar (that's his real name) was believed to have posted emails that were sent to then-Secretary of State Clinton on the internet, including correspondence from close Clinton advisor Sidney Blumenthal. Lazar was brought to the United States, just as reports indicate that the FBI investigation into Clinton's email server is in in full swing. Do you think the timing is interesting? Well, according to a new Fox News report, it is "not a coincidence" that he was extradited to the United States during a critical point in the investigation. The network's report implies "Guccifer" may be able to provide important information to investigators about what happened. After all, his alleged hack exposed that Clinton was using her own domain name 'clintonemail.com' to conduct official business.
"Because of the proximity to Sidney Blumenthal and activity involving Hillary's emails, [the timing] seems beyond curious," Ron Hosko, a former assistant director of the FBI's Criminal Investigative Division told Fox News. Fox's Catherine Herridge and Pamela Brown say they received their information from 'an intelligence source close to the case.' So take that as you will.
However, here is an interesting tidbit from a February article in which The Smoking Gun said they conducted a phone interview with Lazar from a Bucharest prison:
Lazar said that Romania prosecutors are eager to turn him over to their U.S. counterparts, adding that, "I don't oppose. I go there to United States to fight. I know what I did and this is okay with me." Lazar told TSG that, following his arrest, he agreed to an interview with FBI and Secret Service agents. During that meeting at a Bucharest police station, Lazar detailed his illegal activities.
Lazar made his initial appearance in federal court last week. He is charged with wire fraud, cyberstalking, identify theft, unauthorized access to computers and obstruction of justice.
Have a tip we should know? [email protected]
Rachel Stockman - Editor in Chief / On Air Host