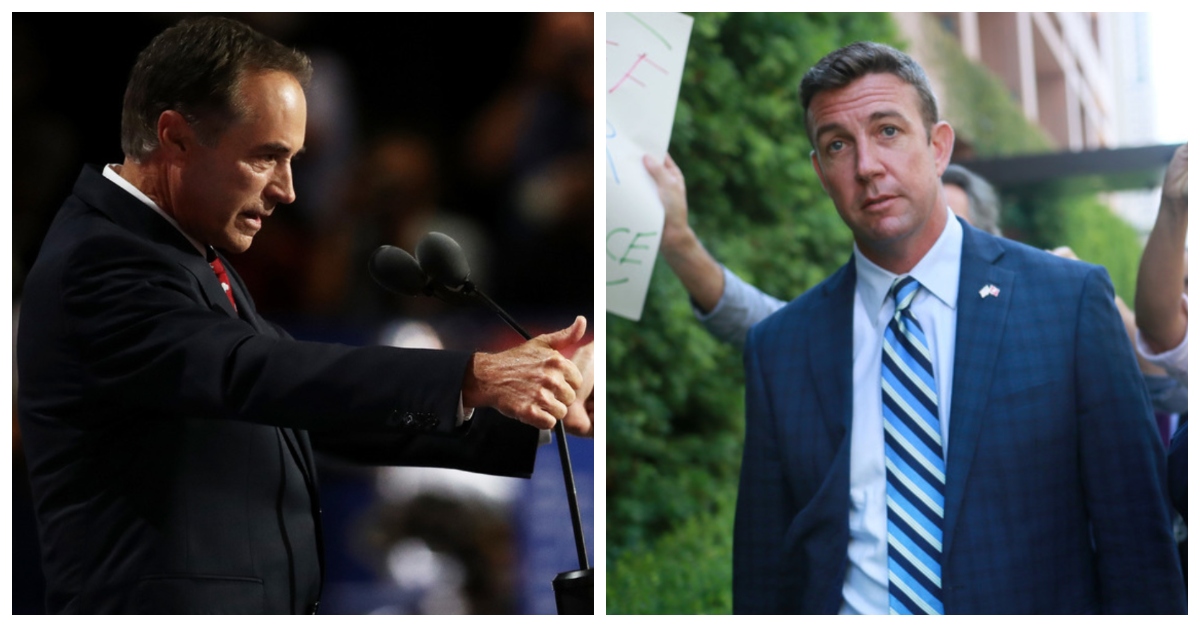 Two Republican members of the U.S. House of Representatives currently under federal indictment were re-elected on Tuesday, despite strong challenges from their Democratic rivals.
Rep. Chris Collins (R-New York) was indicted on August 8, 2018 by the U.S. Attorney for the Southern District of New York. The 30-page indictment laid out multiple charges related to an alleged insider trading scheme involving various members of Collins' own family.
As Law&Crime reported at the time, Collins was already under investigation–and knew he was under investigation–when the alleged insider trades occurred.
The indictment notes:
Christopher Collins was already under investigation by the Office of Congressional Ethics ("OCE") in connection with his holdings in, and promotion of [the security at issue.] Indeed, he had been interviewed by OCE personnel on or about June 5, 2017, just 17 days earlier.
With 99 percent of the vote in, Collins leads Democratic challenger Nate McMurray by roughly 3,000 votes. A third-party member of the Reform Party appears to have played spoiler here by netting some 5,000 votes in the contest. Notably, Collins was the first member of the U.S. House to endorse then-candidate Donald Trump in 2016.
On the almost exact opposite end of the country, Rep. Duncan Hunter (R-California) is currently leading his Democratic opponent by an even-more comfortable margin.
Hunter was indicted a couple weeks after Collins on August 21 by the U.S. Attorney for the Southern District of California. According to a press release from that office:
U.S. Rep. Duncan D. Hunter and his wife, Margaret E. Hunter, were indicted by a federal grand jury today on charges that they converted more than $250,000 in campaign funds to pay for personal expenses and filed false campaign finance records with the Federal Election Commission.
Hunter somewhat infamously complained that the charges were more or less the result of his own wife's financial mismanagement. Critics from the left and right categorized this excuse as the six-term incumbent "throwing his wife under the bus."
The scandal seemed to be taking its toll. As Law&Crime previously reported, Hunter's constituents greeted him at a courthouse with "Lock Him Up" chants. Additional questions were raised regarding campaign finance issues.
In response to the cloud of alleged corruption and Democratic candidate Ammar Campa-Najjar's somewhat successful efforts to make political hay out the indictment, Hunter ran an Islamophobic campaign against Campa-Najjar, casting him as a Muslim and terrorist trying to "infiltrate Congress." In fact, the former Obama administration alum is actually a Christian and has no ties to terrorism of any sort.
The strategy appears to have paid off, however, as Hunter leads Campa-Najjar by several percentage points with roughly 70 percent of the votes accounted for, according to the Associated Press.
[Images via Win McNamee/Getty Images, Sandy Huffaker/Getty Images]
Follow Colin Kalmbacher on Twitter: @colinkalmbacher
Have a tip we should know? [email protected]