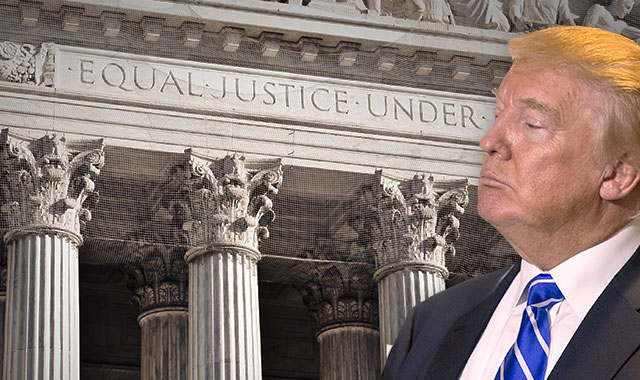 Has Donald Trump turned the Supreme Court pick to replace the late Justice Antonin Scalia into its own version of The Apprectice?
Seriously?
For the past week President Trump has been hyping this pick and teasing the date of the announcement.
It is absolutely crazy!
First, he let it be known that he planned to make the "truly great" pick this week, perhaps on Thursday.
Then, for whatever reason, things changed and suddenly the selection was going to be announced at 8 PM on Tuesday night in primetime. It could a move to distract from the fact that he has gotten a lot of bad press lately because of the controversial immigration executive order he surprised everyone with on Friday.
I have made my decision on who I will nominate for The United States Supreme Court. It will be announced live on Tuesday at 8:00 P.M. (W.H.)

— Donald J. Trump (@realDonaldTrump) January 30, 2017
And if you're still not convinced, then came an announcement that Trump had narrowed it down to two finalists that had been invited to Washington DC on Tuesday. Yes, they were actually both flown in for the season finale, I mean important announcement.  By contrast, when Obama announced Merrick Garland as his nominee back in March, he took to the Rose Garden at 11 a.m. in the morning.
This is all something straight out of the playbook of network television executive, or show runner looking to promote the newest hit on cable. It's certainly not something you would expect to see from the President of the United States. And the pundits are taking notice.
Tonight: Trump tells Hardiman he's a loser, announces Gorsuch, & reveals he personally caught Ollie the bobcat, who joins them on stage.

— Bill Kristol (@BillKristol) January 31, 2017
But will there be parting gifts? https://t.co/eTHPyz5kd1

— Jake Tapper (@jaketapper) January 31, 2017
Yet, here we are. Cable networks are even running countdown clocks for when the announcement will come. It was all going to be quite a spectacle, worthy of the showman Trump. Clearly a lot of effort has gone in to creating public drama for this (which is interesting, since the general public usually has no idea who is even on the court). I should hope that he has spent equal amount of time studying up and vetting the "final contestants" who are going to have to deal with some pretty serious issues.
However, it appears that Trump was not counting on what always happens in Washington DC — leaks.
In the middle of the afternoon on Tuesday, Townhall.com and the Independent Review Journal  both broke stories saying that it was 100% decided that Judge Neil Gorsuch would be Trump's pick.
Whether those reports prove to take the wind out of Trump's sails is yet to be seen, but it's probably a safe bet that at least one White House staffer will get a lesson in Trump Style Secrecy 101 — if the leaked reports are true. The number one rule of the Trump world is don't cross the boss and leaking the name of his big Supreme Court pick would likely qualify as crossing the boss, in a big way.
It will be interesting to see going forward whether Trump tries to do other major announcements of his presidency in this fashion. My gut says yes, and he will not allow the normal ways of Washington to stop him from being Trump.
While we are only 11 days into his presidency, he has shown no signs of being anything but Donald Trump, for better or for worse.
[image via screengrab]
This is an opinion piece. The views expressed in this article are those of just the author.